Amazon Prime look like the real winners, following the announcement that 'Top Gear' hosts Jeremy Clarkson, Richard Hammond And James May have signed a new deal with the company.
READ MORE:
Jeremy and co. have agreed to at least three series of a new, as-yet-unnamed, motoring programme, that will be a direct rival to the BBC's Chris Evans-fronted 'Top Gear'.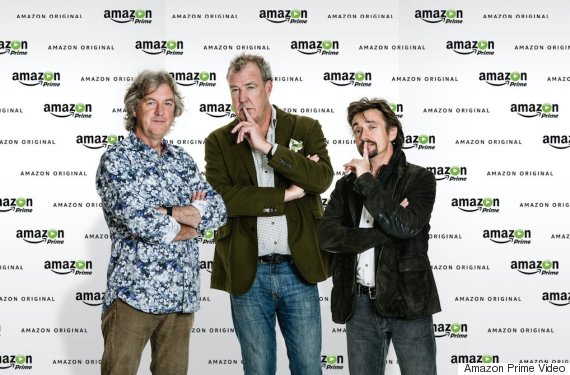 The show will begin airing next year
Plenty of fans took to Twitter to discuss the deal, with many declaring that they'll be signing up to the £79-a-year streaming service, as you'll only be able to see the trio's latest project by subscribing.
Within minutes of the announcement, 'Amazon Prime' was trending on Twitter, and tweets included:
Real coup by Amazon Prime video signing the ex-Top Gear team. Would never have considered it, but now vaguely tempted. But who's producing?

— Andrew Ebling (@andyeb) July 30, 2015
Might have to be Amazon prime then

— kris.wadley (@KrisWadley) July 30, 2015
Yes Yes Yes!!!!!!! Amazon Prime is the new deal now. Glad to know the trio will be back at it again.

— Lubira (@LubzCavalier) July 30, 2015
Amazon Prime just got a few million men signing up for Clarkson May & Hammond as an excuse to get their headphones one day early

— Jezface (@JezfaceMe) July 30, 2015
Now I have to get Amazon prime fs

— Tom (@fxrminist) July 30, 2015
Went to set up an amazon prime account for the news of @JeremyClarkson turns out I've had one for two years, I've never used it!

— Jake Hinchliffe (@hinchliffeworld) July 30, 2015
Quite a coup for Amazon prime there

— James Salvona (@jamessalvona) July 30, 2015
Although admittedly, not everyone was impressed:
I liked Top Gear, but £79 a year for Amazon Prime to watch it? Nah thanks

— J T (@JakeTaylor200) July 30, 2015
The best thing about Clarkson going to Amazon Prime is that I'm not a subscriber

— Orange Monkey (@Orange_Monkey) July 30, 2015
Amazon Prime launched back in February 2014, and since then the service has expanded, and they already produce a number of original shows, including 'Transparent' and 'Extant', which stars Halle Berry.
Just last week, Amazon unveiled an accompanying music streaming service, which will rival Spotify and Apple Music.
LIKE US ON FACEBOOK | FOLLOW US ON TWITTER