Conservative MP David Davies has received a barrage of criticism after suggesting that the army should be sent into migrant settlements around Calais and migrants should be shipped to "humane camps" in Africa and the Middle East.
He added that UK benefits should be cut to deter them from trying to reach Britain.
The controversial comments came as hundreds of migrants attempted to cross the Channel on Wednesday for a third consecutive night.
Davies, MP for Monmouth, not to be confused with fellow Tory David Davis of Haltemprice and Howden, told Radio 4's Today programme that British troops should go into migrant camps in Calais to move people "back to Africa or the Middle East".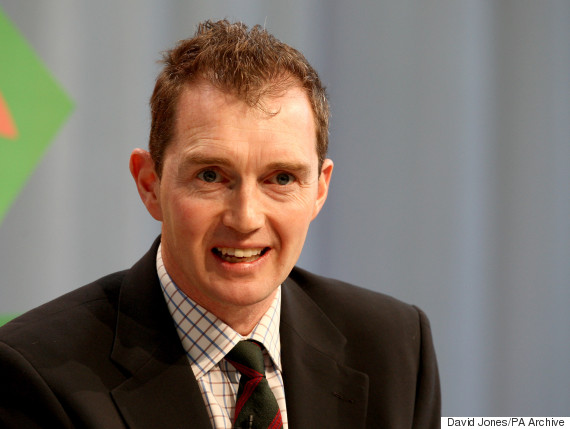 David Davies
There, Davies said, development aid money could be used to build camps and feed them.
14 Reasons Migrants Are Risking Their Lives To Reach Britain From Calais
Davies was accused of being "ignorant" and "repugnant" after he said it was important to "take away the incentive" for people to come to the United Kingdom by cutting UK benefits.
Davies said: "We need to cut the benefits in this country, we need to change the law in a way the judges can't strike down and we need to put people back in a kind and humane fashion so they are not incentivised to risk their lives for their sake as well as ours.
"We have a right to control our own borders and decide who comes in here and we are losing that control."
His comments sparked outrage online - and also confusion as many tweeters thought they were listening to David Davis, not Davies:
David Davies MP appears to say on @BBCr4today that court enforcement of human rights using public funds should not be allowed. Extraordinary

— Paul Infield (@Leagality) July 30, 2015
Did I hear @BBCr4today correctly; David Davies MP advising UK troops to go to Calais to keep migrants out? Really?

— arthur stafford (@arthurliverpool) July 30, 2015
David Davis MP's comments on migrants and refugees on @BBCr4today totally repugnant.

— Niamh Quille (@niamhquille) July 30, 2015
David Davis on @BBCr4today using a humanitarian crisis to call for cut to welfare & building of internment camps in North Africa...wow.

— Sam Webb (@scjwebb) July 30, 2015
David Davis suggests UK benefits system should change to deter #migrants coming from Calais. Such an ignorant assertion @BBCr4today

— Sam Smith (@SamSmith68) July 30, 2015
@BBCr4today@DavidDavisMP asylum seekers in Calais are fleeing persecution & death. they have no idea of benefits system, just want to live

— Sepeedeh (@SepSaleh) July 30, 2015
@BBCr4today Davis needs to understand people have right to claim asylum, govt shouldnt dehumanise people in asylum process. @UKSupremeCourt

— Dr Jessie Hohmann (@DrJessieHohmann) July 30, 2015
@BBCNormanS@BBCr4today ...tories want to send in troops and build camps? Mmmm now who did that before and where?

— Mr Ranty (@rantypete) July 30, 2015
'Round them up & send them back...we'll feed them'. @DavidDavisMP on @BBCr4today talking about migrants like they're animals. Disgrace

— Shelley Joyce (@msshelleyjoyce) July 30, 2015
@BBCr4today Disgusted John Humphrey's letting David Davies go unchallenged. No questioning of why people would risk their lives to get here.

— Brede Mc Dermott (@bredemcd) July 30, 2015
"Use development aid to build internment camps in Africa for Calais migrants" - Tory David Davis MP on @BBCr4today#fascist

— Tregarran Percival (@Tregarran) July 30, 2015
Listening to David Davis spout horrendous colonial ignorance on @BBCr4today re: #Calais We should reduce benefits & send them back to Africa

— Deena Blacking (@deenablacking) July 30, 2015
SEE ALSO:
A man believed to be between 25 and 30 years old was killed after being hit by truck that was leaving a cross-Channel ferry on Tuesday after 1,500 migrants stormed the tunnel. On Monday night 2,000 migrants tried to cross.
Davies' comments come as Prime Minister David Cameron referred to the numbers of migrants travelling to Britain as a "swarm".
Cameron told ITV News on his south-east Asia trip that: "You have got a swarm of people coming across the Mediterranean, seeking a better life, wanting to come to Britain because Britain has got jobs, it's got a growing economy, it's an incredible place to live."
Ukip leader Nigel Farage told BBC Radio 4's Today programme that he would not use "language like that", shunning the Prime Minister's choice of the noun "swarm" to describe migrants.
But it seems Farage has a short memory. Just hours before rejecting Cameron's choice of word, Farage told Good Morning Britain that: "A couple of times I've been stuck on the motorway and surrounded by swarms of potential migrants to Britain and once, even, they tried the back door of the car to see whether they could get in."