Anyone fearful that Kim Kardashian was turning over a new leaf when her latest, makeup-free Vogue photo-shoot was unveiled, will be pleased to see she's back to her ridiculous best in a new energy drink advert.
SEE MORE:
In the space of the two-minute bewildering new ad for Hype Energy, which has been described on their YouTube page as a short film rather than just a run-of-the-mill advert, Kim runs through a variety of outlandish looks, inspired by stylish women from history.
The clip opens with Kim K lying on the floor, after falling off her bike in Audrey Hepburn-inspired attire. But our favourite look of all comes when the reality star channels Marie Antoinnette.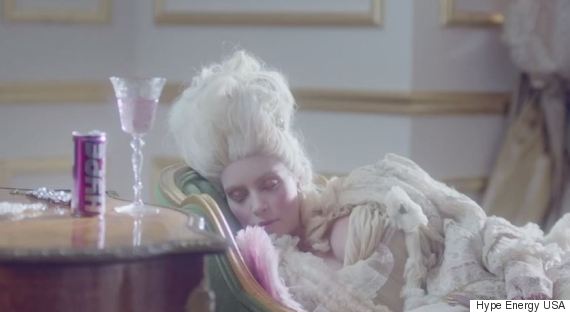 After the hours it took to get that wig on, Kim K has a much-earned rest
Throwing on a bouffant wig, pasty white makeup and a few ruffles for good measure, Kim is seen sipping on a goblet of Hype.
Y'know… just like the former Queen Of France did during her reign in Versailles. She always made sure the cabinets were fully stocked with energy drinks. And cake, obv.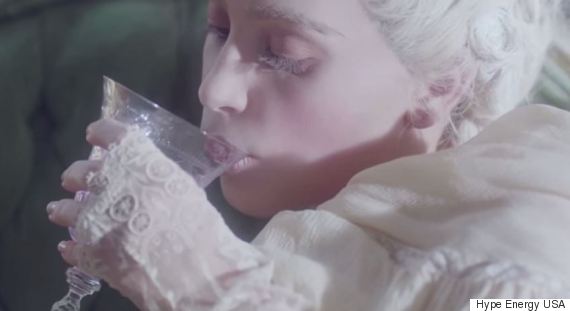 Kim enjoys some Hype Energy, just as Marie Antoinette no doubt would have
For literally no reason, the ad ends with Kim in a string of futuristic outfits, accompanied by a techno beat, which is exactly what happens when you have 15 seconds left to fill, and only a couple of hours to film anything.
Check out the UHMAZING clip in full below.
Last week, Kim unveiled pictures from a new photo spread with Spanish Vogue, which saw her sporting a more au natural look than we're used to.
One of the pictures landed her in a spot of bother, however, after it appeared she was weighing in on some Twitter beef that had been brewing between Taylor Swift and Nicki Minaj.
Kim later claimed the photo-shoot was her "favourite shoot" she's ever done, in a post on her Instagram page.
LIKE US ON FACEBOOK | FOLLOW US ON TWITTER