Nearly 20 years on from the first 'Mission: Impossible' film, Tom Cruise is back as Ethan Hunt in the fifth film of the action franchise.
READ MORE:
After many fans thought the series had lost its way after 2011's 'Ghost Protocol', the pressure is on for the latest instalment to pack the punch the fourth film didn't.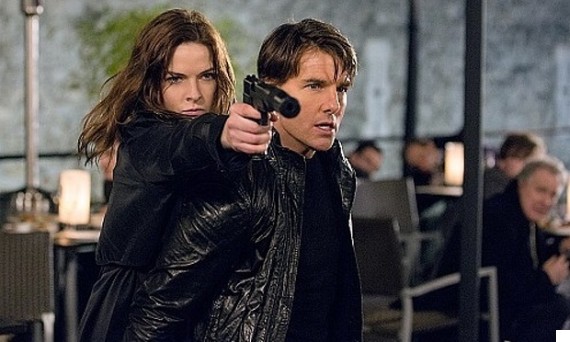 Tom Cruise and 'M:I - Rogue Nation' co-star Rebecca Ferguson
But with Tom now in his early 50s, can he still pull off the hunky action hero routine? Here's what the critics have been saying about 'Rogue Nation'...
The Guardian - 3 stars

"It's really just a chain of colossal action sequences that could be shown in any order. Looking back over the franchise, my reactions have ranged from enjoyment to defeated exasperation and back again. There's not a lot to chew on in McQuarrie's script here… There's a sentimental attachment. But like Tom in that almighty opening plane stunt, I'm finding it harder and harder to hang on."
The Independent - 4 stars
"Its plot line doesn't bear too much scrutiny and its characterisation is sketchy but the action itself is frequently exhilarating… Tom Cruise is in his early 50s but he still has that youthful, puppyish demeanour fans will remember from his Risky Business days. He is endlessly enthusiastic. Whether he is beaten up, almost drowned or suffering whiplash, he will always dust himself down and then throw himself straight back in the fray."
Empire - 4 stars

"Easily, almost nonchalantly, best in franchise, Rogue Nation dispenses with the dead weight of realism or relevance for state-of-the-art thrill-making in a classical mould. The series has finally found its voice."
Digital Spy - 3 stars
"The films have evolved to a point where they're servicing their leading man's adrenaline junkie tendencies, but to the detriment of a compelling whole. Though Rogue Nation is perfectly serviceable old-fashioned summer entertainment, this is starting to feel like a series in need of rejuvenation."
Daily Star - 5 stars

"Christopher McQuarrie, who wrote 'The Usual Suspects' and directed Cruise in 'Jack Reacher', is the master of the intelligent action movie. Here he produces a tense heist, a thrilling motorcycle chase and a string of crunching fist fights. But it's his clever writing that raises the stakes from the spectacular 'Ghost Protocol'... For once, you won't feel cheated by any of the twists when you chew them over on the way home."
Rolling Stone - 3 stars
'Rogue Nation' doesn't skimp on the wow factor, especially a Moroccan motorcycle chase and an underwater sequence that has Ethan whooshing around like a sock during spin cycle… 'Mission: Impossible' still has gas in its tank even when its engine sputters."
LIKE US ON FACEBOOK | FOLLOW US ON TWITTER