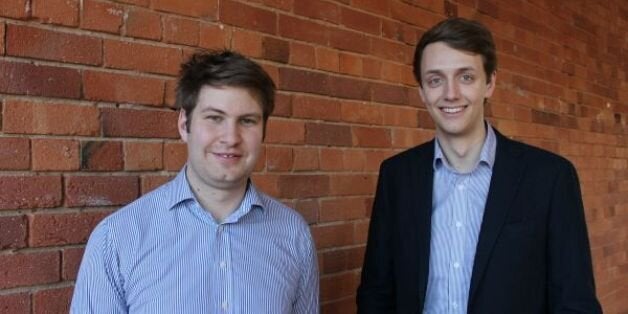 When Tom Craig and Aaron Dicks graduated Leeds University, they didn't have the financial or experiential capital to start their own business, so they did something that most would-be entrepreneurs don't think of doing - they waited.
Two years on and 13 employees up, their digital marketing business Impression is projected to turn over in excess of half a million this year alone.
Starting work by managing the online marketing for a renewable energies company, it took them a few months before they became more confident in their plans.
"We were managing an annual marketing budget of around £2m and working with a number of marketing agencies," says Aaron.
"We didn't feel like we were getting good value for money, and figured we'd be able to do a better job ourselves. That was the moment we toyed with the idea of forming our own digital marketing agency."
Where others might have marched to the bank immediately, they elected to bide their time. It was when they started to get jobs from smaller local businesses that with little fanfare they started their own online marketing company, Impression, as a way of pooling their clients and income.
"It was sort of intentional, and sort of 'just how it happened,'" Aaron said of their low-risk, snowball approach. "It was definitely a sustainable approach that I think others who might otherwise be just freelancers could replicate."
The other unique thing about Impression is their age: with a team of 15 all under 30 and an average age of 25, they're proving that sometimes, experience isn't everything. The young entrepreneurial boom has proved itself as something of a phenomenon, after it was revealed last year that the number of under-35s starting businesses has risen by 70% since 2006.
Impression's success is only made more remarkable by its survival in an often competitive industry.
"We were fortunate that Nottingham wasn't saturated," Aaron continues. "There are good digital people here but not the volume of them you'd find in the other places - we're trying to change that, naturally."
But despite a large market, Aaron says that many clients end up dissatisfied with the quality of many agencies.
"A lot of people in the industry offer a bit of a dated service. It's unfortunate but we pick up quite a lot of clients that have had bad experiences. We're more than happy to breathe a bit of fresh air into their websites, but at the same time there's a bit of a trust issue in the industry."
Despite it's successes, digital marketing is still competing against more traditional forms of communication, and the results of disillusioned customers - who form 47% of the market, according to a report by Chief Marketing Officer Council - can be damaging for those trying to start off.
"It's less of an issue for us to come up against these days now we're established, but for smaller agencies it can prevent them winning new clients as they lack track record. It's still something we hear about almost daily even these days."
"Everyone's so skeptical but it's for all the wrong reasons. There's a small minority who are tarnishing the industry for the others."
But for all the tarnished reputations and tired routines, Impression is eager to prove that good ideas are worth their weight in gold (a beer fridge resides in the office - "some of our clients like to have a beer in meetings!").
For those looking to make their way through the competition, Tom and Aaron's success story is sure to leave a good impression.