The Ministry of Defence has released footage of RAF Typhoons intercepting ten Russian aircraft during a single Baltic Air Patrol.
The operation was part of NATO's ongoing mission to police Baltic airspace as currently the states of Latvia, Lithuania and Estonia do not have enough aircraft to police their own skies.
The RAF Typhoons took part in the Quick Reaction Alert mission, on Friday 24th July.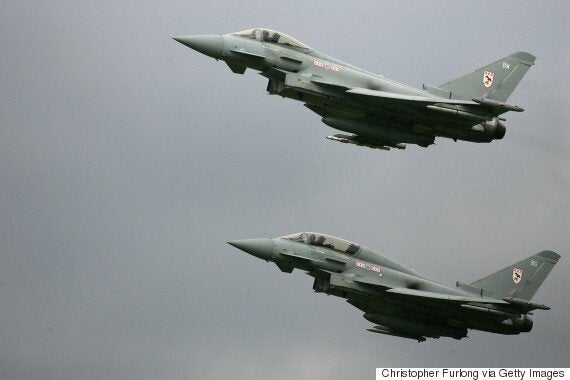 LINCOLN, UNITED KINGDOM - JULY 11: Two low flying Eurofighter Typhoons take off on July 11, 2007 at RAF Coningsby in Lincolnshire, England (file photo)
Once airborne, the RAF jets identified the aircraft as four Sukhoi Su-34 fighters, four Mikoyan MiG-31 fighters and two Antonov An26 transport aircraft who appeared to be carrying out a variety of routine training.
The Russian aircraft were monitored by the RAF Typhoons and then were escorted on their way.
Secretary of State for Defence, Michael Fallon said: "Once more the RAF and our state of the art Typhoon fighters have demonstrated our commitment to NATO's collective defence.
"Air interceptions such as this highlight the vital importance of the UK's contribution to the Baltic Air Policing mission and demonstrate our collective resolve to protect NATO airspace alongside our allies."
The North Atlantic Treaty Organisation (NATO), also called the North Atlantic Alliance, is an intergovernmental military alliance based on the North Atlantic Treaty which was signed on 4 April 1949.