Nail art for short nails can be pretty tricky to find and sometimes it seems like girls with inch-long talons are having all the fun.
But not today, as this #ManicureMonday, we've got the low down on how to get even the shortest of nails looking pretty pimpin'.
East London-based freelance nail artist Maddy Ayers (Maad Nails) told HuffPost UK Style how to perfect leopard print nail art in five simple steps:
1. For this bright leopard design, start off with a base coat (here I went for Bourgois) and then a nice vibrant turquoise. I used An Ever Bigger Splash from WAH London.
2. To begin the pattern, paint some blobs of a mid-shade of brown – I went for Nubby Sand from &Other Stories. The pattern shouldn't be uniform so make these all different shapes and sizes.
3. Once the brown polish has dried, loosely outline the shapes using a black nail pen. Don't line each one all the way around; leave a few gaps for a more natural, broken-up look. The WAH London range is great for this as the pens have a nib end which is easy to control.
4. You'll find that you may have some space in between the shapes. Add a couple of marks just with the black pen in these gaps to add depth to the design. You can make these broken circles, half-moons, dots… whatever you fancy!
5. Finish with a good layer of top coat to add gloss to the look – China Glaze Fast Forward does the job.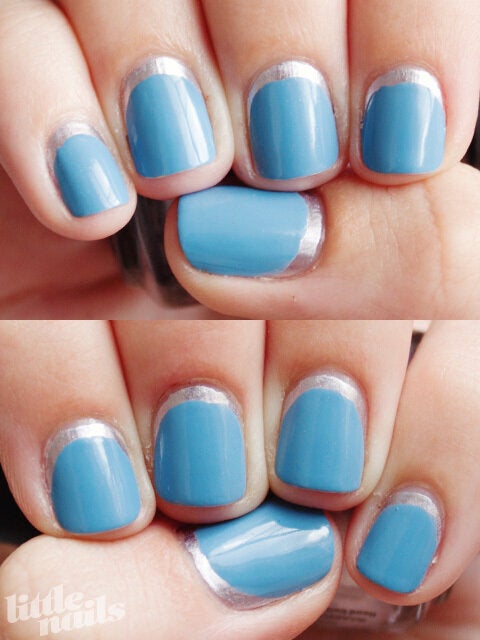 Nail Art Ideas For Teeny Tiny Fingertips
Related