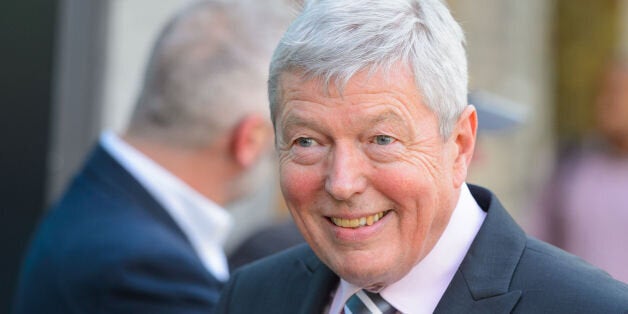 Labour members should "end the madness" of Corbynmania and opt instead for Yvette Cooper, former Home Secretary Alan Johnson has declared.
Confirming last night's Huffington Post UK report, Mr Johnson has told The Guardian that Ms Cooper was the candidate with the "the intellect, the experience and the inner steel" to lead the party back into Government in 2020.
In a withering assessment of Jeremy Corbyn's recent surge in popularity and campaign momentum, he said Ms Cooper was the "most qualified' to become Prime Minister and urged party members: "Let's end the madness and elect her."
Mr Johnson declared that the veteran leftwinger's own record of voting more than 500 times against the Labour whip had undermined his claim to want a unified party.
"Jeremy's ... been cheerfully disloyal to every Labour leader he's ever served under. That's fine so long as members understand that it's the loyalty and discipline of the rest of us that created the NHS, the Open University," he wrote.
A spokesperson for the Corbyn campaign hit back, telling HuffPostUK: "Whatever anyone else says in this leadership election Jeremy Corbyn is keeping it positive, about policies for growth rather than austerity, not personal attacks. Jeremy's giving a positive lead and focusing on unity, not division."
A source close to Mr Corbyn added that the Johnson intervention was "likely to backfire because party members are increasingly turned off by the negative tone" of the 'stop Corbyn' critics.
"I can understand why the 'virus' drivel should emanate from our political opponents, including those in the various far-left sects who last tried to bring their finger-jabbing intolerance into our party 35 years ago," he said.
"What I'm puzzled by is why it should come from trade union leaders whose members benefited so much under the last Labour government."
He adds: "I've known Ward for 25 years, during which he has never been a political activist. His interest was always firmly on the industrial side of the CWU. The sad thing is that he obviously felt that the only way he could attract attention as a newly elected general secretary was to slag off the Labour party.
"In this respect he was following the example of some other leaders of affiliated unions whose only emotion when talking about Labour seems to be anger, the only volume setting loud."
Mr Corbyn's ally Diane Abbott instantly dismissed the attack, tweeting a reference to the 1980s pop group Madness and Mr Johnson's own reputation as 1960s 'Mod'.
But Ms Cooper tweeted her delight that she had bagged one of the 'big beasts' left in Parliament from the Blair-Brown governments.
Mr Johnson's endorsement is certainly a big boost for the Cooper campaign, which believes that both the Andy Burnham and Liz Kendall camps had hoped he would back them instead.
One supporter of Ms Cooper told HuffPost UK that the endorsement underlined that "there's only one person to stop Jeremy Corbyn and save the Labour party".
Some pointed out that Mr Burnham had announced in a new GQ interview how much he admired the former Home Secretary
On Monday night, Mr Corbyn was hailed by a large crowd at a London rally and his speech ended to chants of "JezWeCan" from supporters.
However, in his Guardian piece, Mr Johnson warned new party members against the 'culture of betrayal' narrative of some on the Left, and set out a long list of achievements of the Tony Blair and Gordon Brown era.
As well as record spending on health and education, he cited "the 3,000 Sure Start centres, the Disability Discrimination Act, the Human Rights Act, civil partnerships, rescuing 1.2 million children from absolute poverty and 1.8 million from relative poverty, pension credit..and the world's first legally enforceable carbon reduction targets".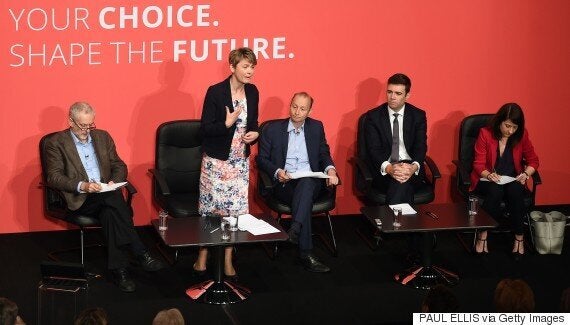 Labour leadership candidates at the final party hustings in Warrington
The former Cabinet minister, who had been urged by some MPs to run himself for the leadership, has previously said he wanted to see how the race progressed before opting to throw his weight behind a particular candidate.
In an interview with HuffPost UK recently, he made clear he "genuinely wanted to watch and listen and see the television debates and how they responded to questions, how they dealt with some difficult issues".
He had refused to say whether he would opt for Ms Kendall, Ms Cooper or Mr Burnham, declaring 'they've all got their pluses'.
Yet perhaps in a bid to counter the surge in momentum for the Corbyn campaign, Mr Johnson has now decided to back the Shadow Home Secretary as the best choice for to win the next general election in 2020.
Mr Johnson, who was recently appointed as the head of Labour's 'Yes' campaign for the forthcoming EU referendum, has served as Home Secretary, Education Secretary, Health Secretary, Trade and Industry Secretary and Work and Pensions Secretary and is highly respected across the party.
As a regular on BBC1's This Week programme, he also has a public profile greater than many on the Opposition frontbench.
With the departure of Alistair Darling, Gordon Brown and Jack Straw at the last election, he is one of the few senior New Labour figures left in the Commons