A powerful video appearing to show a British man who has joined the so-called Islamic State (IS) in Syria has been released to urge Muslims not to let their words radicalise others.
The film, part of the Quilliam Foundation's #NotAnotherBrother campaign, depicts a young, British man in a war-zone, having travelled to join the terrorist group in Syria.
Badly injured and bleeding, he reads a moving letter from his older brother. In the letter, the older brother apologises for unintentionally contributing to his radicalisation.
He goes on to reveal the link between extremist ideas and words and the violent actions that some, like his brother, take up.
The video, developed by Verbalisation, is accompanied by the caption: "Daesh [Isis] are radicalising our brothers to fight in Syria. They are tearing families apart. Enough is enough.
"Sharing this film will show Daesh that their extremist views have no place in our community.
"No family should lose another loved one to such hatred. Not another child. Not another sister. #notanotherbrother."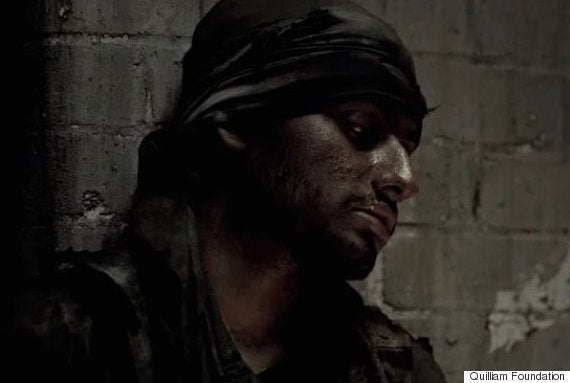 The fighter is shown reading an emotional letter from his older brother
Quilliam Chairman Maajid Nawaz says: "We hope to inspire others to be creative, think critically, and make counter-narrative content too.
"Only by uniting, as a civil society, behind human rights values and against the social ill of Islamist extremism, can we truly defeat it."
IS (also known as Isis, Isil and Daesh) has used online propaganda and social media extensively in its attempts to recruit new members, particularly from Western countries.