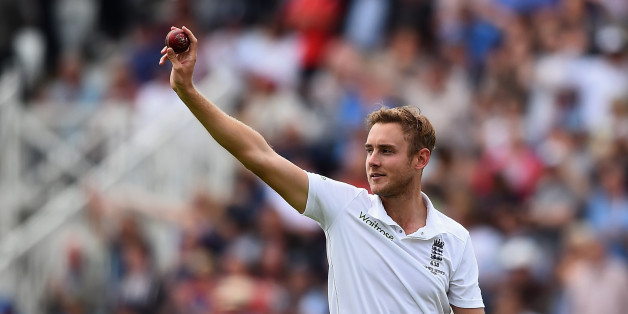 Laurence Griffiths via Getty Images
Australia made cricket history on Thursday when their entire team was bowled out for 60 runs in the first day of their fourth Test against England.
It took just 18.3 overs - and some spectacular work by bowler Stuart Broad - for the Aussies to collapse 20 minutes before lunch in the fourth Test of the Ashes.
The performance is the shortest first innings in Test history and for once English sports fans had reason to rejoice.
The disastrous innings spawned #GoneIn60Seconds. Here are seven things that last longer than the Australian batting team.
1. An entire football match
Aussie inning lasted little more than a football match excluding the break!!! #GoneIn60Runs

— Subho Ghosh (@iamsubhoghosh) August 6, 2015
2. Most films
You could watch the Australian innings twice and you'd still have some of Lawrence of Arabia movie left over. #Gonein60runs

— Akash Sharma (@AwesmAkash) August 6, 2015
3. Cold treats
Things that lasted longer than Aussie innings, A choc ice in Hell #GoneIn60Runs

— david sketchley (@david_sketch) August 6, 2015
4. Shane Warne
Things that last longer than Aussie innings- Shane Warne explaining a 'lose to win mentality' #GoneIn60Runs

— Richard August (@RichAugust1) August 6, 2015
5. Sleeping
I've had naps that have lasted longer!! #gonein60runs

Trying to think of applicable situations that rhyme with "craps"

— Faye Ferguson (@Faye_Fergy) August 6, 2015
6. Technology
Australia's innings lasted 100 minutes, even my mobile battery lasts longer than that.

August 6, 2015
7. And if you couldn't think of one, don't feel bad. It takes a while...
It took me longer to try and think up a witty entry for this #Gonein60Runs

— David Whitworth (@dcwhitworth) August 6, 2015
SEE ALSO: