A dating expert has revealed her top tips for women who want to bag themselves a wealthy other half - if that kind of thing floats your boat. (And if you're UFC fighter Ronda Rousey, then it definitely isn't).
Lady Lara Asprey, 32, from Chelsea in London, set up her website The Sloane Arranger as a way of helping "Sloaney sorts" (we're talking male millionaires and celebs) in their quest for love.
Now, the professional matchmaker who starred on ITV's This Morning earlier this week, has revealed her top 10 tips for finding 'the one'.
And it seems like a lot of hard work.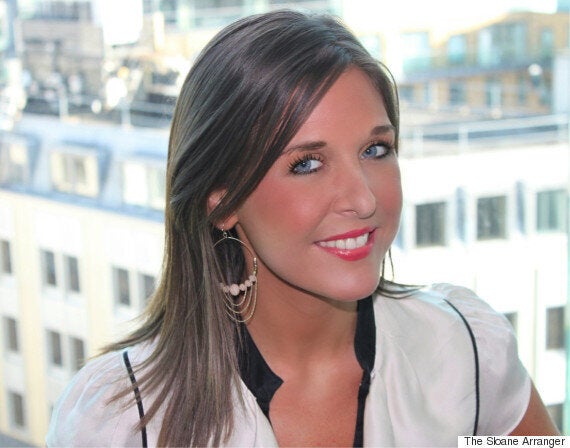 Speaking to Eamonn Holmes and Ruth Langsford on This Morning, Asprey explained how it can be "harder" for women looking for love because there are usually more men than women on dating sites, which makes it more competitive.
The 32-year-old said she set up The Sloane Arranger after realising she had many "charming and eligible" single friends, who weren't meeting the right kind of people.
After building up a little black book of single (and pretty rich) people in and around London, Asprey launched her own dating site and has since matched several high profile clients including Prince Charles' polo-playing pal, a Shakespearian actor and several celebrities from the acting world.
"Despite the high profile nature of several of its members to date, The Sloane Arranger is not about introducing people solely to millionaires," a spokesperson for the site tells HuffPost UK Lifestyle.
"It prides itself on being accessible to those from a good background and with what Lady Lara likes to call 'a touch of class'."
After her debut on TV, the dating expert has revealed her top ten tips for women hoping to bag themselves an eligible boyfriend.
But take it with a pinch of salt, if you want to find true love you should probably just be yourself.
And heck, if he's not into it, then stick to being a cat lady as he doesn't deserve your time.
"A lot of the time women start to feel insecure when they are single and so make the mistake of trying to get attention from chaps by putting more skin on show," says Asprey.

"They might go out and dress to impress in the wrong ways which only gives off the wrong impression. It's important to leave something to the imagination and maintain a sense of elegance and mystery."

Lady Asprey says: "Here in Britain we love to laugh, and are known across the globe for our humour and wit.

"It's important women don't leave banter to the boys though and are proactive in putting forward their personality. If they look great and have a sparky character too they will be even more attractive than someone who just looks good alone."

"A lot of the time women start to doubt themselves if they haven't found a man, which only gives off the wrong signals," says Asprey.

"They can appear to be insecure and can be terribly forgiving with unfavourable behaviour from chaps.

"Believe you're an eligible and attractive woman and have confidence in yourself. You will command respect and men will treat you as you deserve to be treated."

"I often speak to clients who tell me what they are looking for and they reel off a shopping list of items they are looking for from their partner," explains Lady Asprey.

"Chemistry with someone is rarely a tick box exercise, so if you are looking for a specific type throw away your lists and ask yourself what really matters to you from a partner on a more fundamental level."

"We can be terribly reserved as Brits," says Asprey. "We often don't like to go out of our comfort zones in terms of meeting new people or going to new places, often preferring to stick with what we know.

"I would encourage every woman to say yes to everything for a month that comes up and see what happens. The universe has a funny way of opening itself up to you the more you open yourself up to it."

"It's important for women to not just think of heading to their favourite wine bar and think more strategically about where might be a great place to meet men.

"For example sports matches always draw in lots of chaps so it doesn't hurt to get clued about which big matches are on when and where they are being televised.

"From there you can place yourself in prime position in the room so that not only will all eyes be on the screen, but you're going very likely to get noticed too (just make sure you're not obstructing any views as it won't do you any favours)."

Lady Asprey says that she often hears women say they are making time for dating or meeting new people, when in reality they are putting in lots of time at the gym or at work.

"We all know life can get in the way sometimes but it's important to be true to yourself with regards to how much time you're actually investing looking for someone," she says.

"Don't let your busy schedule be a comfortable excuse for you not having met someone."

"These days communication can be terribly confusing, especially when there's texting, Whatsapp, email, skype and phone calls to consider," says Lady Asprey.

"If you're texting a chap try not to overanalyse what he's saying and read too much into the text. Keeps your responses short and sweet but don't be cold.

"Also don't transition things onto Whatsapp before you're ready as it will only put undue pressure on you to think of a quick response."

"Encourage men," says the dating expert. "If you see someone you think is attractive it's important to be able to look them in the eye and feel confident enough to give them a smile.

"Don't be too shy or worry that it will appear forward. Often men need more gentle encouragement before they will approach you."

"Try to keep your outings with your girlfriends to no more than three friends at a time," says Asprey. "You don't want to intimidate chaps from approaching or talking to you and there's often nothing more terrifying than a large group of attractive women."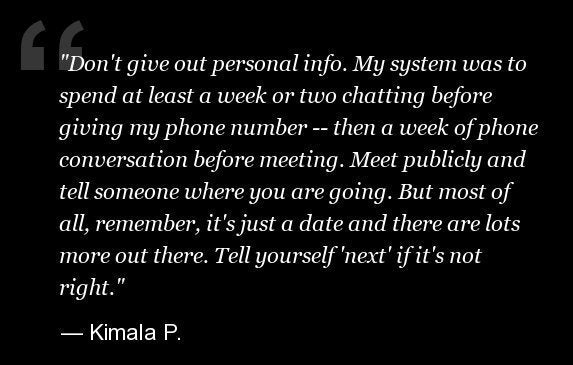 16 Online Dating Tips From Readers