Hugh Jackman gave an Australian newsreader a massive surprise this week, by sneaking up behind her during a live broadcast.
SEE MORE:
Jessica Turner from Australia's Channel 10 News had been reporting on the Fight Cancer Foundation's 'Back On Track' programme from outside Sydney Children's Hospital, where the 'Wolverine' actor was present to launch the scheme.
What she wasn't counting on, though, was that she'd be broadcasting right at the moment that Hugh chose to leave the hospital - and when he noticed the cameras, he couldn't resist a little prank.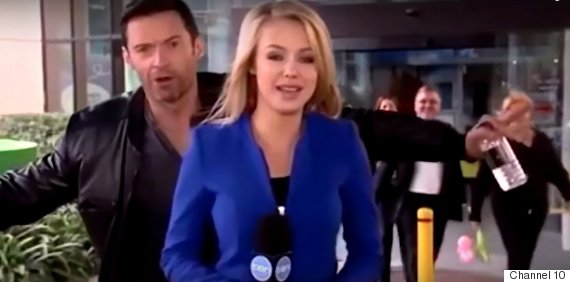 Amazing
Sneaking up behind her, Hugh shouted "photobomb", and then kept walking, a flustered Jessica laughed off the prank, joking it was "the best kind of photobomb".
Of course, Hugh still has a long way to go before he takes the photobombing crown from Benedict Cumberbatch, who can't seem to go the length of an awards ceremony without inviting himself into the background of someone's picture.
The Australian actor has an exciting few months ahead of him, and he's currently gearing up for the release of 'Pan', an adaptation of J.M. Barrie's 'Peter Pan' story, where he will be playing Blackbeard.
The film also stars child actor Levi Miller in the titular role, while Cara Delevingne will be playing one of the mermaids in Neverland.
Hugh also recently announced that his next outing as 'X-Men' character Wolverine will be his last, teasing his last appearance in the role on his Twitter page.
LIKE US ON FACEBOOK | FOLLOW US ON TWITTER