A photographer has captured the marks left on a woman's skin after she takes off her clothes, in a bid to ask the fashion industry to take greater consideration of its customer's comfort.
The itch of a jean seam that's digging into your hip, the ache of a nagging bra strap or the smart of a shoe strap that chafes with every step, these discomforts are all too familiar and yet they are not enough to stop us returning time and again to clothes that irritate our skin.
Why do we accept feeling uncomfortable in our clothes? That's the question that inspired San Diego based photographer Justin Bartels to create the photo series Impressions.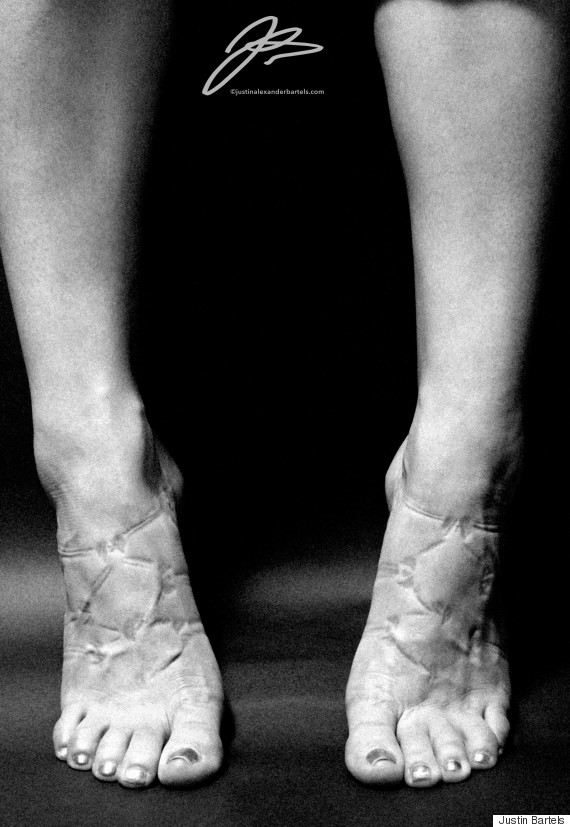 "Through my dating experiences I started becoming aware of fashion trends that women would often verbally complain about," Bartel told HuffPost UK Style.
"After seeing these articles come off and the physical and visual proof of how uncomfortable these garments were, I was very perplexed as to why a women would put themselves through such torture.
"I would pose the question as to why they wore uncomfortable apparel and shoes when there were other more comfortable options out there.
"The responses I received typically came in the form of, 'I want to look this way', or 'this is how women dress', to 'I feel good when I look good'.
Bartels' Impressions photo series came about in 2010 after he graduated from the Art Center College of Design in California.
At the time he was dating a model, who he says liked to "wear tight fitting clothing to 'accentuate' her features, as well as, high heels to make herself taller then just about any other woman there."
Bartels asked his partner if she'd be interested in posing for a series of photos that showed the marks left on her skin by her clothes and she agreed it would be a fascinating project.
The impressions on her skin were all made by articles of clothing from her own wardrobe.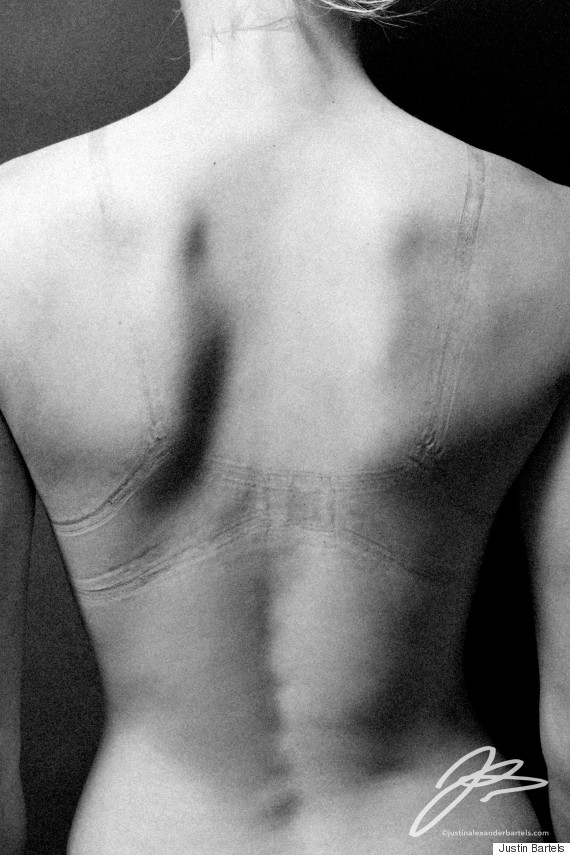 Bartels says the response his images have provoked has been mixed.
"I have seen a variety of responses ranging from extremely positive that I created this series to make women more aware of the physical damage, to very negative, with women saying that I was forcing them to wear different types of clothes," he says.
"I want these photos to be a talking point, to get women who were silent about certain fashion styles to speak out.
"The fashion industry won't change its products unless the consumer demands it.
"I truly feel that this series will help spread the message to the fashion industry to do more research and development, and to hopefully listen to their consumer's needs a little bit more.
"I feel that the industry is headed in that direction, with some great comfortable and stylish options that are starting to come out. "
SEE ALSO:

The True Price of Fashion - Look at the Label

Topshop Apologises For Using 'Ridiculously Shaped' Mannequin
"I also hoped that women would question what they wear, and why they wear it," he adds.
"Women shouldn't wear clothes because of what society dictates, they should wear clothes that make them feel good physically and emotionally.
"I certainly hope that society will perceive these photos as a voice of the consumer asking the fashion industry to change it's ways."
Bartels named each photo after absurd titles he pulled from women's fashion magazines, click through the gallery below to see a selection of shots from the series.