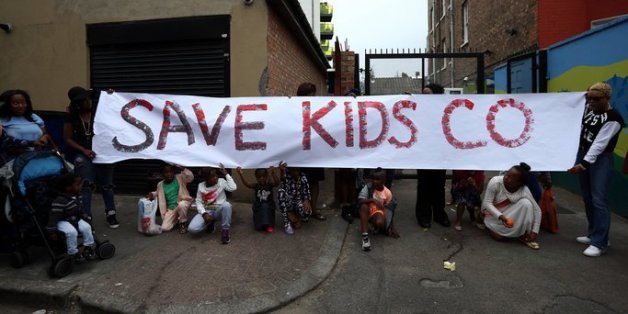 Carl Court via Getty Images
The founder of Kids Company has mounted a passionate defence against claims of financial mismanagement at the troubled charity, resulting in a bizarre exchange with broadcaster John Humphrys on the Today programme on Thursday.
Interviewing 52-year-old Camilla Batmanghelidjh, the veteran presenter quizzed her on the name of a child she claimed had been on the verge of suicide after Kids Company closed on Wednesday.
Batmanghelidjh said she had talked a vulnerable young child out of killing himself the day before, who called her from a train station "about to jump."
"We're in neighbourhoods where child protection and mental health services aren't coping," she said.
"Just yesterday I had to talk a kid out of trying to jump on a rail track. He was at the train station, about to jump, on the phone.
"These are the sort of cases we've had to deal with."
A surprised Humphrys, seemingly disbelieving, quizzed her on details, pressing for the boy's name.
The charity's founder rebutted, telling Humphrys she would not reveal the victim's identity, leading him to quickly backtrack, asking instead for further details of the incident.
The exchange brought strong criticism of both sides, with many claiming it was inappropriate for Batmanghelidjh to bring up the incident.
Camila Batmanghelidjh did not come across well on R4 this morning. Claiming boys are trying to commit suicide because of this is really odd

— Alice Grier (@AliceMaryGrier) August 6, 2015
Batmanghelidjh responds to every reasonable question about her administration with hysterical emotiveness about suffering kids. #r4today

— Mark Breeze (@BreezeBlast) August 6, 2015
@BBCNormanS@BBCNews@Kidsco@BBCr4today Erm. Did she inform the authorities. Is he getting medical help.

— Paul Bishop (@PaulPJB) August 6, 2015
well this seems like an inappropriate thing to say https://t.co/lWDGfcHxLn

— Jessica Elgot (@jessicaelgot) August 6, 2015
But the long-standing Today presenter's line of questioning also was met with criticism from pundits, some of whom described it as "appalling", "shocking" and "shameful".
Cant believe that John Humphreys just asked her to name a child who attempted suicide... if she had not sure who'd be at fault most #R4Today

— James Mills (@JamesMills1984) August 6, 2015
#kidscompany may have made mistakes but Humphrys treatment of Batmanghelidjih on #r4today was appalling

— Antony Lerman (@tonylerman) August 6, 2015
Can't believe Humphrys asked for the name of a boy who was threatening suicide.

Actually, on second thoughts I can. #r4today#kidscompany

— Briefcase Michael (@BriefcaseMike) August 6, 2015
Shameful journalism from @JohnHumphrysr4 demanding the name of a vulnerable young person to make his point #r4today

— Sarah Lowe (@CountryGirlMCR) August 6, 2015
Couldn't believe what I was hearing. Shockingly bad interview #R4today very disappointed. https://t.co/HYu7Dw5AAF

— Martha Greengrass (@magic_toyshop) August 6, 2015
John Schless, a director at youth advice charity 'Get Connected', condemned the interview, telling The Huffington Post UK: "It's not the right behaviour".
"In terms of protecting the identity of children, it's all about having the most appropriate privacy in place," he added.
The interview exchange on Thursday came amidst claims by Batmanghelidjh that a donor who gave £3m to her charity withdrew the funds after learning of abuse allegations in the troubled organisation.
She said Kids Company was forced to wind down support services on Wednesday after a philanthropist pulled the cash injection upon discovering a police investigation into the charity.
Batmanghelidjh, the charity's former chief executive, told the BBC that within 20 minutes of the one-off payment being handed charity treasurers last week, "the police call out of the blue to say that there's been allegations of sexual abuse related to Kids Company".
She added: "Within the hour this is all over the news that Kids Company is being investigated ... the minute the philanthropist discovers that this is on the cards - they freak and then they don't put their money in, so then the deal breaks down."
She also pointedly blamed "rumour-mongering civil servants, ill-suited ministers and the media" for her charity's demise.
Article continues below slideshow:
Kids Company has received almost £37m of government funds in the past decade.
Cabinet Office officials released a "transformative" one-off payment to the charity's treasurers in July, with orders to make changes to how the organisation was run.
Ms Batmanghelidjh, announced she would step down as chief executive as part of the shake-up.
The 52-year-old CBE-holder is said to have emailed charity staff last week to say they would be paid using some of the Government grant money, even though the Cabinet Office said its cash was intended to be used as part of a "transformation and downsizing plan".
In emails seen by the BBC, she allegedly told staff: "I just want to let you know that we have just received our funding from the government and are processing payroll right now."
One official familiar with the matter claimed £800,000 had been paid out immediately to staff.
Other support services and local authorities have been briefed on the likely impact of Kids Company's impending closure to mitigate the numbers of vulnerable young people who have suddenly found themselves without support services.
Useful websites and helplines:
READ MORE: