Mariah Carey was almost upstaged by her four-year-old son Moroccan, during the unveiling of her star on the Hollywood Walk Of Fame.
SEE MORE:
After over 25 years in the recording industry, Mariah was finally given the honour - *cough* that celebs apply and pay for - of having her own star on Hollywood Boulevard, joining some of the biggest legends to ever work in the entertainment industry.
The star was unveiled at a special ceremony on Wednesday night, with Mariah posing for photographers, lying down on the ground in a typically understated glitzy black dress. Because that's what we all lounge about in, right?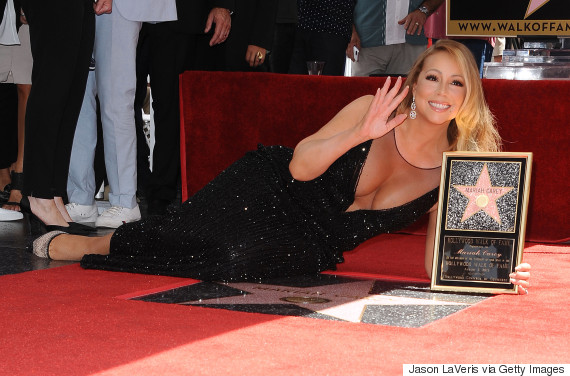 Mariah Carey
What Mimi probably wasn't expecting was the arrival of her four-year-old son Moroccan, who obviously wanted to share the spotlight with his mum.
As flashbulbs popped around her, Mariah's son was seen clambering over to her and clinging onto her dress, while she lay on the floor, massive grin still firmly in place.
Don't look now, Mariah. There's a child on your dress
But was Mariah going to let anyone bask in her moment…?
...no she was not, and an aide swiftly arrived on the scene to scoop Moroccan up and take him aside.
Let that be a lesson to all of us in not trying to bask in a diva's spotlight. Even if the diva in question is your actual mother.
Mariah is currently enjoying a residency in Las Vegas, performing her '#1 To Infinity' show at Caesar's Palace, in the place of Céline Dion, who is currently caring for her ill husband.
The show follows the release of the latest in a long line of Mariah 'Greatest Hits' albums, led by the single 'Infinity', which appeared to allude to her separation from her husband, Nick Cannon.
LIKE US ON FACEBOOK | FOLLOW US ON TWITTER