You may have noticed already but there's a tube strike on which means the levels of profanity in the nation's capital peaks as poor commuters mourn the apparent collapse of civilisation.
To celebrate this some genius has created a website that shows everyone cursing the strike on Twitter or Instgram in real-time.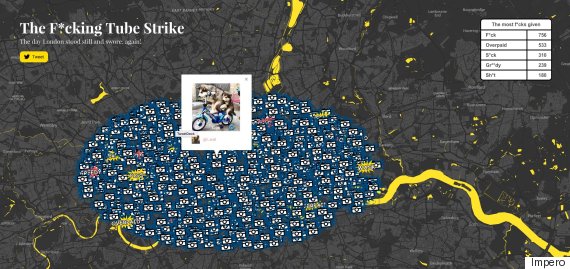 CLICK ON THE MAP TO VISIT THE FULLY INTERACTIVE SITE
Superb...
READ MORE:
The map is the work on IMPERO, a "creative digital and social agency based in London and Sydney".
Here's a few #tubestrike highlights...
Fed up of these tube employees. Stop being greedy. We'd all love more money for working long hours but that's tough shit. #tubestrike

— Hannah Lucas (@Hannah__Lucas) August 6, 2015
Due to the #tubestrike I've just walked past a milkman pick up a hooker 😂😂 it's too early for this shit #eastlondon

— Ricardo (@Rickii_71) August 6, 2015
#tubestrike you are shit @TfL I just got home after a long bloody day at work! Thanks a bunch #nobheads

— april (@aprilbeno) August 5, 2015
Fuck you #tubestrike 😭

— Gabby (@gabby_staraite) August 6, 2015
Left mine at 6:45 and just got to work, what should have been a 20 mins journey. Fuck you #tubestrike

— Beth Corbyn (@bethcorbyn) August 6, 2015
Taking the boat to work today, because fuck yeah. #tubestrike#tflpic.twitter.com/39hlXvW9Ql

— Ben Lynch (@soletsbegin) August 6, 2015
This journey can fuck off! #tubestrike

— Mark Lainas (@mlainas) August 6, 2015