If the nation were threatened with the prospect of overwhelming attack, someone knows what to do, right?
Because there's a set of top-secret protocols and guidelines worked out by government and military officials that take account of everyone and everything, right?
This is the 'War Book', a genuine item that gives its name to a new political thriller, that follows nine civil servants who gather for three days to shape policy and procedures in the event of such a disaster.
As the scenario escalates and the group begins to address the breakdown of civil order, the reality dawns that they are deciding the actual, fragile future of the nation and everyone in it. When personal politics crash irrevocably into the room, each is forced to look closely at what they really believe, and how much their decisions are actually worth.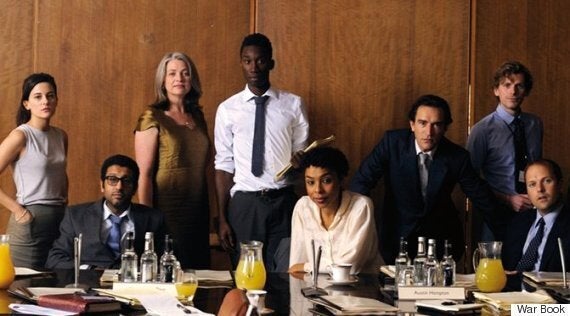 Those in the room decide - the cast of political thriller 'War Book'
The film, with all but one scene set in one room, boasts a stellar cast – including Sophie Okonedo, Ben Chaplin, Antony Sher and Shaun Evans – but what becomes apparent between the personal agendas and shifting allegiances, is that deciding what really matters in the world is a very subjective matter.
"We've taken a few shortcuts," explains Tom. "They would have spent three whole days, not an hour and a half. But the basic framework is authentic, and so are the questions involved, taking it as far as… do you push the button?"
Both director and writer were clear that they didn't want to push forward their own answer to this ultimate question.
"It's not black or white, these are people struggling to come to terms with decisions that they're facing," says Tom.
"And that's because there aren't any easy answers. It really could come down to who the strongest-willed person in the room happens to be, or other idiosyncratic details that can influence people's thinking.
"When you're growing up, you expect the doctors or politicians or teachers to have the right answers, and then you grow up and realise that's not the case."
'War Book' will have a series of event screenings and discussions over the weekend of August 7, 8 and 9 as follows:
Art House Crouch End (London)
Phoenix Picturehouse Oxford
Empire Walthamstow (London)
Picturehouse Central (London)