Cara Delevingne has revealed one of her most inspiring nights occurred when she found herself downing tequila shots with two of her, and our, all-time musical heroines - Mariah Carey and Whitney Houston, no less.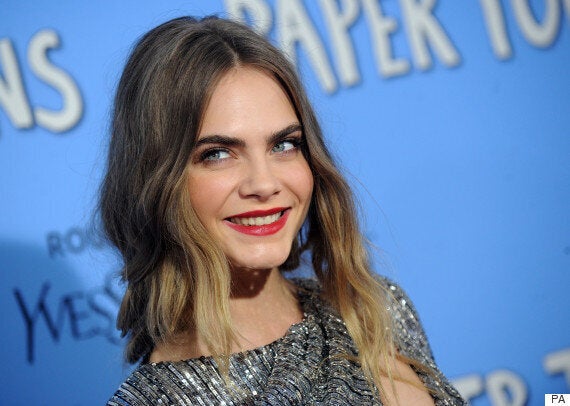 Cara Delevigne remembers a special night with her musical heroines Whitney and Mariah
Cara told KISS FM: "We went to this incredible house somewhere in the middle of the country and met Whitney Houston and Mariah Carey. We all did tequila shots. I was standing there going wow this is incredible and inspirational."
And just to add to the A-list calibre of the night, the party followed a Metallica gig, where Cara remembers standing behind drummer Lars Ulrich during the concert.
She says: "He gave me his drumsticks and I'm thinking should I lick them or is that a bit rude? Thinking - will this give me more drumming talent?"
Cara, currently promoting her first lead film role in John Green coming-of-age tale 'Paper Towns', also referred to her recent infamous interview with 'Good Day Sacramento', which saw her sarcastic humour flying over the heads of the American show's breakfast hosts, who eventually decided she must be too tired for the interview, and suggested she go and "take a nap and get a Red Bull".
Cara was admirably unruffled by the incident, with her famous eyebrows the only indicator of her reaction to their lack of hospitality. She admits herself that she has calmed down a lot.
She tells KISS, "I used to get far more aggressive, and very angry. Not that I don't still sometimes, but it comes with the job and I wouldn't change what I do for anything. So you kind of have to just swallow it."
She previously wrote on Twitter, "Some people just don't understand sarcasm or the British sense of humour."
What does get her goat, though? People thinking her success came easily. "People say I don't work hard, or that all of this has come very easy, and that I haven't had to work for it," she explains. "That's not true at all. Erm, that's the worst, I hate that one. Because I pride myself on how hard I work, so it sucks when people say that kind of thing."
Cara stars with Nat Wolff in 'Paper Towns', which sees her playing Margo, a glamorous girl-next-door who has one adventurous night with her neighbour Quentin, and then disappears, leaving him to follow a series of clues to find her.
'Paper Towns' is in UK cinemas from Friday 21 August. Trailer below...
Related