Dennis Waterman's final farewell to 'New Tricks' tonight brings to an end another chapter in one of the most enduring careers in British television - the almost inexplicable, seemingly effortless and yet thrice-proven success of this most English of actors.
To the naked eye, it really doesn't look like he does an awful lot - generally in jeans, leather jacket over one arm, pint in hand and equally ready for a joke or a joust, whatever the occasion.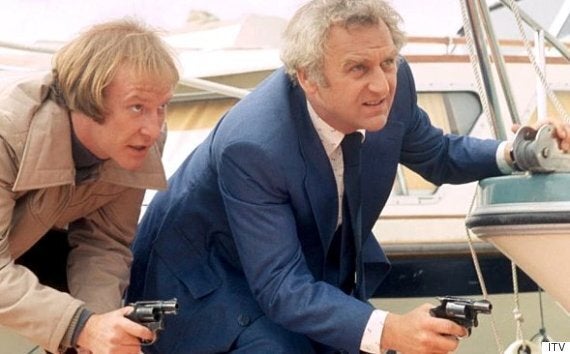 The Sweeney (Dennis Waterman with John Thaw) came from rhyming slang - 'Sweeney Todd... Flying Squad'
But there's no escaping that he's been centrally placed for not just 'New Tricks' - in 2008 the most popular programme on British TV - but three of the most successful, long-running and distinctive primetime TV dramas of the past forty years.
His purple patch began back in 1975, when he was cast as Detective Sergeant George Carter in 'The Sweeney'. Not only did it have a fantastic theme tune and all the elements of high-octane cop show (it was the 1970s, remember, so that basically meant driving a high-speed Ford Granada), but his co-star was the supremely charismatic John Thaw, as Detective Inspector Jack Regan. Together these two members of the Flying Squad solved violent crimes around the housing estates and streets of London. The show lasted three years, and is still cited as one of the most influential TV cop shows of its era. (We won't mention the film of the same name that came and went without quite the same sound of sirens.)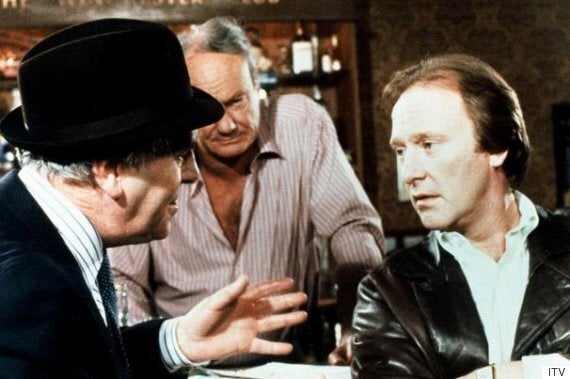 A pint in the Winchester with Arthur Daley (George Cole), while Dave (Glynn Edwards) lends an ear
Dennis's magic touch continued with 'Minder', which paired him with the masterful George Cole. While George's Arthur Daley was one of TV's great characters - all camel coat, huge cigar and a bucketload of grand ideas, not always this side of the law - Dennis was his 'Minder' Terry, an ex-boxer and an ex-con, but basically a warm-hearted lad who could be persuaded to muck in, for the right amount of notes and a pint in the Winchester. George Cole's death last week inspired Dennis to remember how well the pair got on during their heyday - Dennis will be speaking at George's funeral on Thursday - and such harmony was palpable on screen. AND he got to sing the theme tune.
Most recently… 'New Tricks' found him shacked up as a veteran detective Gerry Standing with fellow 'old dogs' James Bolam, Alun Armstrong and Amanda Redman, called out of retirement to solve old crimes. Much of the appeal of the show lay in the actors' recognition as old pros who've been treading the boards as long as their screen counterparts had been patrolling the streets.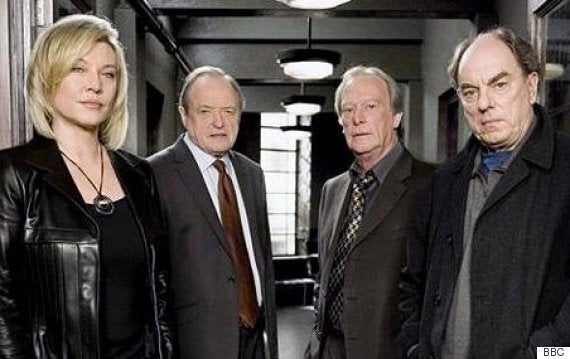 Compatible Old Dogs... Dennis Waterman with Amanda Redman, James Bolamn and Alun Armstrong
Once again, it was all about chemistry, and Dennis can take his share of the credit for having fans tell him they could tell everyone got on very well. "And they were right," he recently told Radio Times. "We were all having a great time together, but I was always amazed that other people saw it so clearly."
Just as in 'The Sweeney' and 'Minder', Dennis was confident enough to let the person next to him take care of the punchlines, the more starry performances, while he neither overshadowed nor disappeared - which, when you think about it, is quite a skill in itself. As well as being able to sniff a TV hit from a mile away.
On 'New Tricks', the big acting, when it needed to happen, generally came from James Bolam and Alun Armstrong (with a few strong moments along the way from Amanda Redman). Something tells me Dennis's departure tonight won't have the stop-the-clocks theatrics of either of those, but it will no doubt be equally effective.
'New Tricks' airs tonight on BBC1 at 9pm. And here's a classic bit of 'Minder' to remind you of good times gone by...
Related