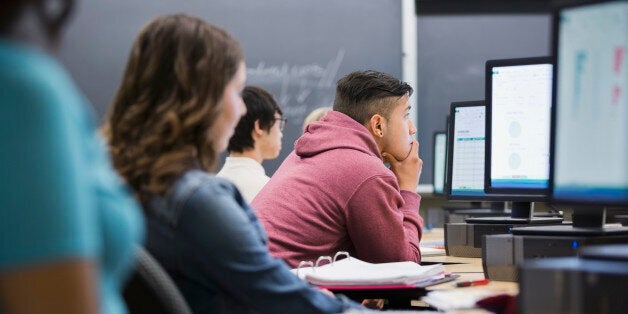 Sixth form colleges are fearing for their futures after government cuts have forced them to axe science and foreign language courses and left them on "starvation rations", a report has revealed.
Almost 40% of sixth form headteachers say it is likely their college will cease to exist in the next five years, with seven in 10 saying they cannot provide students with a quality education with the funding assigned to them next year.
The Sixth Form Colleges Association (SFCA), which represents England's 93 sixth form colleges, conducted the research, which paints a picture of a sector under "serious threat".
The report said some of the colleges had lost up to a third of their funding between 2011 and 2016, and added further reductions are "highly likely", as the government is not protecting the 16 to 19 education budget from spending cuts.
Sixth form colleges are also not eligible to reclaim VAT, meaning institutions have lost out around £317,964 on average. Of the 72 colleges which responded to the SFCA's survey, 52 said they had dropped courses as a result of funding cuts, which were introduced in 2011.
More than a third have cut A-levels in modern languages, with 17 colleges cutting science, technology, engineering and maths subjects.
James Kewin, deputy chief executive of the SFCA, said: "This report highlights the damage to students caused by the three funding cuts imposed on sixth form colleges since 2011.
"The sector cannot survive on starvation rations, and without more investment, sixth form colleges will be unable to provide young people with the high-quality education they need to progress to higher education and employment."
Tristram Hunt MP, Labour's shadow education secretary, called the findings "deeply troubling".
"Modern languages and Science are an essential part of a 21st century curriculum. We need to widen young people's horizons; to equip them with the broad range of knowledge and skills they need to thrive in the new digital world. Once again this shows how David Cameron's education policy is holding Britain back."
Last month the government announced a review of post-16 education, saying "major reform" was needed, which could result in colleges either closing or merging. Unlike schools, whose budgets have been protected, colleges have been subjected to funding cuts on three separate occasions since 2011.
The SFCA survey concluded: "A further round of funding cuts would seriously affect both the life chances of students and the very existence of the sector."
A Department for Education spokesman said the government had "ended the unfair difference between post-16 schools and colleges by funding them per student, rather than discriminating between qualifications".
"We have provided sufficient funds for every full-time student to do a full timetable of courses and increased support for those who successfully study four or more A-levels and large TechBacc programmes."
Malcolm Trobe, Deputy General Secretary of the Association of School and College Leaders, added: "The level of 16-19 education funding is far too low and this sector is in danger of being turned into a 'Cinderella service', despite its obvious importance to young people and to the country.
"We are extremely concerned that this situation is having a major impact on the best efforts of school sixth forms, sixth form colleges and FE colleges to offer a full range of educational opportunities to young people," he said. "Given such low levels of funding, it is simply not possible to employ teachers in every subject area and this is leading to key subjects being dropped from the curriculum."