A woman has escaped serious injury after she was struck by a black cab and a group of valiant Londoners LIFTED the vehicle off her.
The woman in her 40s was hit by the car on King William Street near Bank Station at around 1pm on Monday.
This remarkable footage of the incident has emerged.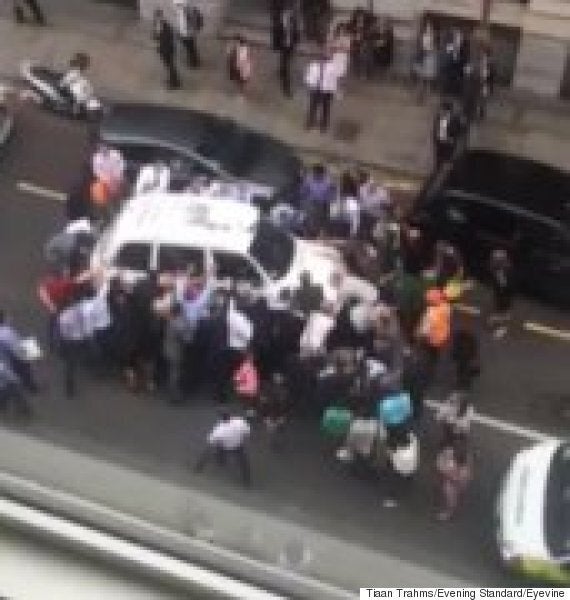 The woman was struck by a black cab on King William Street at lunchtime on Monday
"Something inside me kicked in and suddenly I just started shouting at people to help. I started screaming 'help or she's going to die'.
"I started shouting at men passing by, screaming 'you're a man we need you.' All these bankers and city workers then just started dropping their briefcases and running over."
Around 30 people helped to lift the car from the woman after one person opened the cab doors and released the handbrake.
A spokesman for the London Ambulance Service said: "We were called at 1.10pm to King William Street to reports of a road traffic collision.
"We sent a number of resources to the scene including an ambulance crew and London's Air Ambulance trauma team by car.
"We treated a woman reported to be in her 40s for a leg injury.
"She was taken as a priority to hospital."
City of London police say the woman sustained minor tissue damage and was released from hospital on Tuesday. No arrests have been made.
Fares later appeared on Good Morning Britain to talk about the incident.
She told Susannah Reid: "People were just staring and taking photos. I shouted 'Everybody stop staring let's get this cab out of the way'. I was really rude, I was swearing."
She added: "It was very hard to tilt it over but what came to mind was when 1000 people moved that bus on Facebook."
The man had been knocked off his unicycle and his dreadlocks had become caught in the vehicle's wheels.