The prime minister was labelled "northing short of disgraceful" for using the word as thousands in Calais clamoured to enter Britain through the Channel Tunnel.
But on Saturday he told the Today Programme he did not regret it and denied the term was "dehumanising".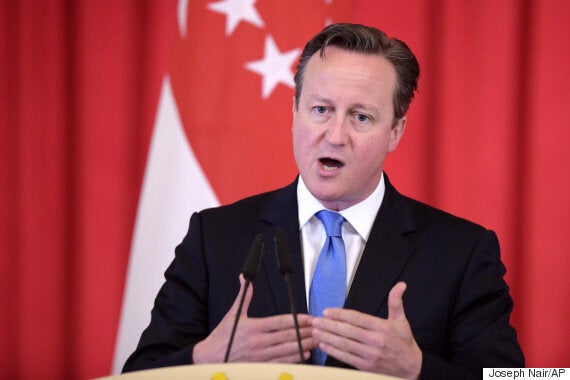 Cameron defended his use of the word 'swarm' to describe people risking death to seek sanctuary in Britain
Speaking on the 100th day since his majority Tory government was elected, he said: "I was explaining that there are a large number of people crossing the Mediterranean, coming from the Middle East, coming to Europe and I was trying to explain that it was a very large number of people.
"I was not intending to dehumanise, I don't think it does dehumanise people."
He also said the Royal Navy had rescued "thousands" of migrants trying to cross the Mediterranean but dodged a question on whether Britain should be taking in more refugees, saying only that we are "one of the most generous countries in Europe" and that those trying to "break in" to the country had to be stopped.
He added: "These people are for very understandable reasons are fleeing, sometimes, persecution. Listeners at home will understand that I was trying to describe the fact that a lot of people are trying to come to Europe from Africa.
"Unlike other European countries, many of whom have not kept their promises on aid spending, Britain has kept her promises and that money is going into the horn of Africa and other countries in Africa to try and help bring them the stability that not so many people try to come."
In the same interview, Cameron also said he would keep his pre-election promise not to seek a third term as Prime Minister.
He said a decade is a "good long time" to be in Number 10, following suggestions he was under pressure to stay on as Tory leader and premier.
He told the programme: "I stand absolutely by what I said. Ten years is a good long time to be Prime Minister and I stand by what I said.
"But I've got plenty to get on with, it's a full manifesto, a strong mandate for it and ... 100 days in I think people can see we are delivering the things we said we would – a tax-free minimum wage, more apprenticeships, capping welfare, making work pay. I think it's been a strong start."