Liz Kendall has hit out at the "vitriolic" bullying she has suffered in the Labour leadership race and accused her trolls of hypocrisy for criticising the Tories' divisive rhetoric while attacking her.
The shadow minister said she was a "warm-hearted tough cookie" who was strong enough to take the knocks, many of which have come supporters of frontrunner Jeremy Corbyn.
She recently retweeted one such comment by a Corbyn supporter calling her a "cow".
She tweeted "thanks so much" in response to a tweet calling her the antichrist.
Ms Kendall told the Press Association some party members and supporters who were guilty of engaging in "horrible" attacks while at the same time decrying the Tories for "divisive rhetoric" should be "called out".
The shock emergence of left-winger Mr Corbyn as the favourite in the race has helped fuel increasingly bitter exchanges between opposing wings of the party and the strongly-Blairite Ms Kendall has been a prime target on social media.
Early in the campaign her team also complained that rivals had sought to damage her by highlighting the fact that the shadow care minister did not have children.
An unspecified opposing camp was later blamed for spreading rumours she was in a relationship with fellow MP and prominent supporter John Woodcock, which forced him to make public denial.
He said it was "clearly being done systematically, to damage Liz's campaign".
"Some of the abusive vitriolic stuff on social media has been appalling," she told PA.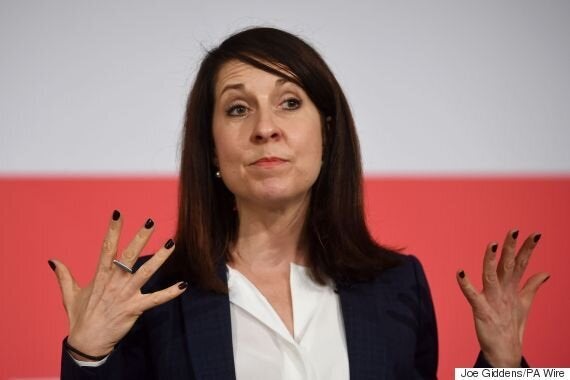 Liz Kendall said Labour supporters who attack her while criticising the Tories' 'divisive rhetoric' should be called out
"We are members and supporters of a party that believes in treating people equally and with dignity and respect. That is what we say to the public.
"We criticise, rightly, David Cameron's divisive rhetoric and I don't think anybody who is a member or supporter of the Labour Party should say or treat people in this sometimes horribly critical way.
"That is not how we should act as a party and we should call that out wherever it happens."
Asked if she had been shocked by the personal nature of the campaign, she said: "No. Politics is tough and so too am I.
"I consider myself to be a warm-hearted tough cookie and I have a lot of support from many MPs and other members of the party as well as my family and friends.
"And you know what? The more people kind of make personal attacks and criticisms, that will never put me off. You don't give in to that kind of bullying behaviour; you stand up and fight for what you believe in and support others who do the same."
Ms Kendall, who concedes she has "a hell of a long way" to go to move from last place into a winning position, also appeared to suggest that she would be a thorn in the side of the leadership if Mr Corbyn is elected on September 12.
She has ruled out accepting any offer of a place in his shadow cabinet but insisted she would never leave the party.
"I will never leave my party. I could no longer leave my party than leave my family," she said.
"I will continue making the case for what I believe in. I have always made these arguments ever since I joined the party over 20 years ago and I will continue to do so. I have never changed my view and I won't.
"I don't think it would be right," she said of suggestions she could be included in Mr Corbyn's top team in the interests of party unity.
"After the case I've been making what would people think if I suddenly started - well I wouldn't start arguing something different would I and nobody would believe me even if I did.
"People at least want their politicians to tell it how it is and what they think and what they believe. I have done that and I will continue to."
Celebrities backing and attacking Jeremy Corbyn