Andy Burnham has attempted to woo Jeremy Corbyn supporters by claiming he shares "common ground" with the Labour leadership frontrunner, but that only he can beat the left-wing candidate and unite the party.
In a speech quickly dubbed his "I agree with Jeremy" address, the Shadow Health Secretary stated how he and Mr Corbyn share an outlook on housing, rail and education, and praised the Islington North MP for the "energy" he has brought to the contest.
Labour members and supporters started voting today. The election result will be revealed on September 12.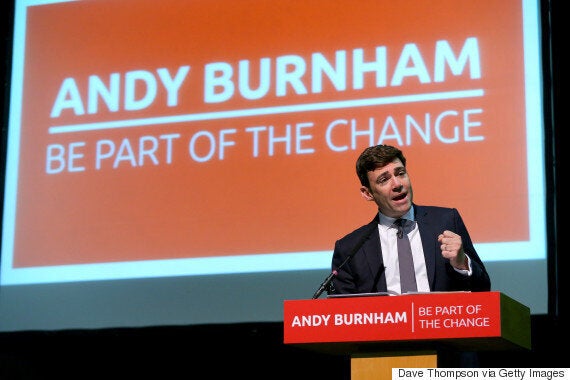 His remarks were in stark contrast to those of fellow contenders Yvette Cooper and Liz Kendall, who have both warned Mr Corbyn will drag Labour back to the 1980s and electoral isolation.
Mr Burnham, who last week said Mr Corbyn's economic plans lack "credibility", was clear there are disagreements with him on the EU and public service reform too.
Nonetheless, he referred to "Jeremy and I" twice and promised to involve Mr Corbyn in his team "from the outset". In contrast to mentioning Ms Kendall twice and Mr Kendall once, Mr Corbyn was name-checked on seven occasions.
Mr Burnham also claimed he would have won the race if he resigned from the Shadow Cabinet over Labour's position to abstain from a key vote on the welfare bill, which threatens to slash tax credits among a raft of cuts
Speaking in Manchester, he said: "There is a good deal of common ground between Jeremy and I on some of the big ideas he has brought to this race."
He added: "On housing, rail and education there is real scope for common ground on an ambitious new policy agenda for Labour coming out of this contest.
"But that can't be allowed to disguise the fact that there are some big difference between the two visions on offer and a very real choice before our party.
"The differences are substantial and in the most important areas of policy: on the EU, the economy and on public service reform."
The move could be read as an attempt to sweep up the second preference votes of Jeremy Corbyn supporters, or provide a more electable version of the Corbyn offer.
Regardless, Mr Burnham, originally seen as the favourite, is trying to harness some of "Corbyn-mania".
"Jeremy has brought real energy to this race," he told activists, supporters and journalists. "I want to capture that."
It followed ex-PM Gordon Brown launching the latest intervention in a bid to halt the one-time outsider.
In his speech, Mr Burnham made clear he believes only he can overcome Corbyn-mania.
He added: "All the information says: only I can beat Jeremy Corbyn now. I can win this race. I also can unite this party."
He continued: "I could have resigned from the Shadow Cabinet over the welfare bill, and won this contest.
"But that wouldn't have been me and I want to win this by being true to myself. So I put the party first again.
"And because of the way I have always done my politics, I believe I am the only person who can unite this party coming out of this contest.
"On September 13, I will be able to turn round to all Labour MPs and ask them to show to me the same loyalty that I have always given to them — starting with opposing the Welfare Bill."
He promised not to "let our party repeat the history of the early 1980s when we were more interested in fighting each other".
He said: "We left the pitch clear for Margaret Thatcher to bulldoze her way through Labour communities up and down the country.
"I won't let those Bullingdon Boys — the heirs to Thatcher — do the same to people in 2015 as she did in 1985."
"That was the year I joined Labour here in the North West. I have given my life to it ever since.
I am now fighting to win this contest with everything I've got because the very future of our Party hangs in the balance."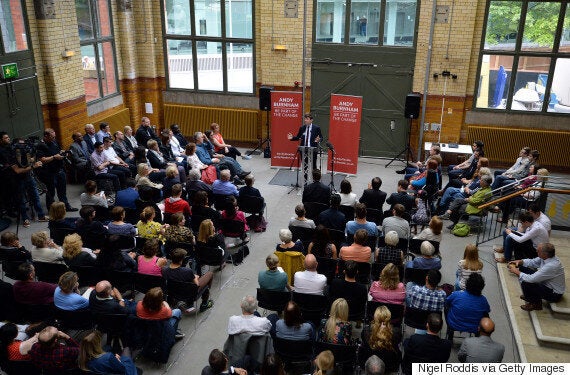 Labour leadership candidate Andy Burnham delivers a speech at the Peoples Museum in Manchester
Ahead of the speech, Ms Cooper warned Labour will lose the next general election if it tries to "swerve all over the place" in a thinly-veiled attack on her leadership rival.
Ms Cooper, who re-energised her campaign last week after a speech criticising Mr Corbyn for offering "old solutions", today took a swipe at Mr Burnham as the two fight to be the favoured "Anyone But Corbyn" candidate.
In an interview on the Today programme this morning, she said: "We can't move our narrow party a bit to the left or a bit to the right. But neither can we swerve all over the place - because we will crash and we will lose in 2020. And then we let people down."