Pictures of an injured migrant have been published under the headline: "They ought to be able to catch this one..." by the Daily Mail's website, as the tabloid press continues to de-humanise those attempting to reach the UK.
The Mail sent its staff photographer to Calais to capture images of migrants attempting to flee the increasingly desperate conditions at the unauthorised migrants camp known as 'The Jungle'.
But it was the two photographs of an injured man that caught the Mail's eye.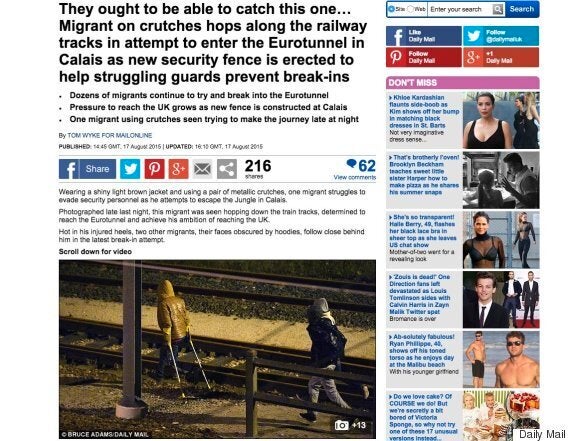 The story used photographs taken by the Mail's staff photographer
They appear to depict an man on crutches inside the secure Eurotunnel site at Calais.
The image of a hooded migrant hobbling alongside electrified railway tracks, followed by two other people, sums up frantic attempts to reach Britain by those at the port.
But the Mail's headline betrays the harsh reality that migrants face, with many continuing to attempt to board fast-moving vehicles and trains despite having already been injured, increasing the risks even further.
Médecins du Monde, a French medical charity operating a field hospital at the migrants' camp in Calais, says it has treated serious injuries of those attempting to cross the border.
Somewhat predictably, those commenting on the article on the Mail's website were quick to equate the migrant's apparent injuries with the amount of benefits he might receive in the UK.