The number of sex offences on Britain's railways increased last year while recorded crime went down for the 11th year in a row.
There were 1,399 sexual offences in 2014/15, up from 1,117 the previous year, as recorded crime on the railway system fell from 50,839 to 46,688 offences, according to annual figures from British Transport Police (BTP).
Crimes involving violence against the person - which include serious and common assault, firearms and explosive offences and racially aggravated harassment - also rose from 8,425 to 9,149.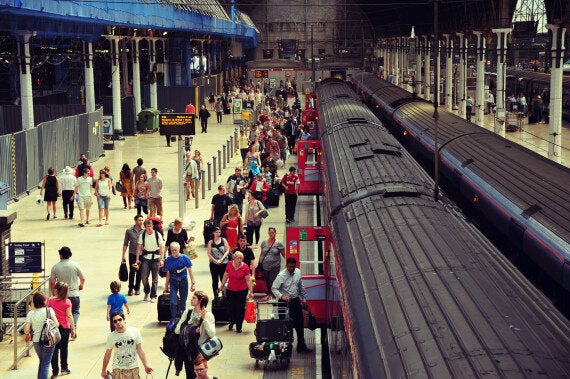 The number of sex offences on Britain's railways increased last year
Deputy Chief Constable Adrian Hanstock said the increase in reports of sexual offences showed it was a significant concern for people but was under-reported.
He said: "When you consider that 4.5 million passenger journeys were made on the rail network each day in 2014/15, the chances of becoming a victim of crime are minimal – but we are well aware that individual experiences can differ greatly to that wider picture."
He described the increase in violent crime as "a concern" but said: "The use of more officers patrolling late-night trains and at peak periods, as well as our extensive CCTV network, is helping to halt this rise.
"What is worrying is that in a disproportionate amount of these offences, it is police officers or railway staff that are the victims of assault, often as a result of their intervention in seemingly ordinary incidents such as non-payment of fares or petty anti-social behaviour."
There were 501 recorded assaults on officers in 2014/15 up from 498 the previous year.
The majority of violence cases were lesser types of assault involving pushing and shoving rather than those resulting in more serious injuries, Hanstock said.
A total of 358 robbery offences were recorded across England, Scotland and Wales in 2014/15, down from 436 in 2013/14.
Hanstock said: "Robbery has a profound impact on victims due to the associated fear of violence and theft of their personal items, and we have been doing everything in our power to make sure this is not something people have to worry about on their journeys."
Theft of passengers' property - such as bags, smartphones or other devices - on trains and at stations fell from 14,353 to 12,039 while motor vehicle and cycle crime went down from 7,455 to 7,231.
Drug crime - including trafficking and possession of a controlled drug among the recorded offences - went down from 3,993 to 2,355.
Looking at the figures over the last 11 years, Mr Hanstock said: "In that time, vehicle and cycle crime has been driven down by 39%, meaning 4,600 fewer offences, while 19,000 fewer people have been the victim of the theft of property, with crimes of this type down 61%.
"All of this has been achieved against a background of a growing industry, increasing passenger numbers and large-scale investment in infrastructure.
"The demand for the skills of BTP officers and staff will be even greater with the opening of Crossrail, plans for the HS2 link and the introduction of night services on the London Tube network."
But it said that the rise could be attributed to a group effort alongside BTP and the Metropolitan Police's Project Guardian initiative.
TfL said the initiative "raised public awareness of unwanted sexual behaviour and encourages victims to report these historically under-reported crimes".
Earlier this year, BTP released a shocking video as part of the crackdown on unwanted sexual behaviour.
Entitled 'Report It To Stop It', the clip showed a woman being sexually harassed on the Tube.
It then showed how to report such incidents via text.
Any incidents of unwanted sexual behaviour on public transport by texting what happened, where and when to 61016 or calling 101.
Victims are not required to prove whether actions were criminal or intentional - police will take responsibility for investigating the offence.