Wealthier tenants on an east London housing estate, saved from rent hikes by Russell Brand, will pay more than their neighbours in a new scheme, which is to be applied to a further 900 properties by 2020.
Residents of the New Era estate in Hoxton will be invited to pay new personalised rates from 1 January by non-for-profit landlords Dolphin Living. Residents can either pay means-tested rent, or remain on a standard rent.
Tenants enlisted the help of Brand last year as part of their battle against plans by former owners, New York-based Westbrook Partners, to seek evictions and increase rent, which was said to be about half of the market rate for Hackney.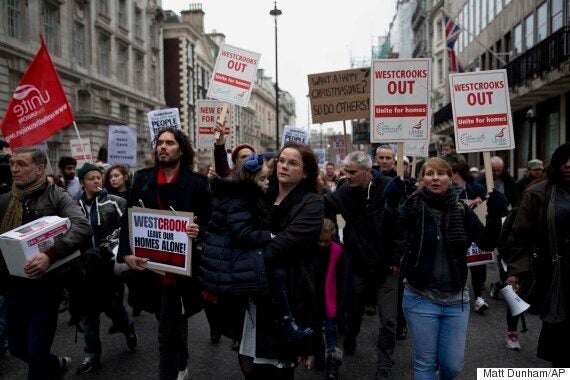 Russell Brand marches through central London with New Era estate residents to hand a petition into 10 Downing Street in December last year
Its chief executive Jon Gooding said the scheme was devised for tenants to "best suit their financial needs".
Residents on the estate were said to earn an average of £31,000 and pay between £145 to £182 in rent per week.
The BBC reported that those who opted into the personalised scheme will pay an extra £2.50 and £4 a week.
Whereas tenants who chose not to would see their rent increase by inflation plus 4.5 per cent - or £8 to £12 a week in 2016.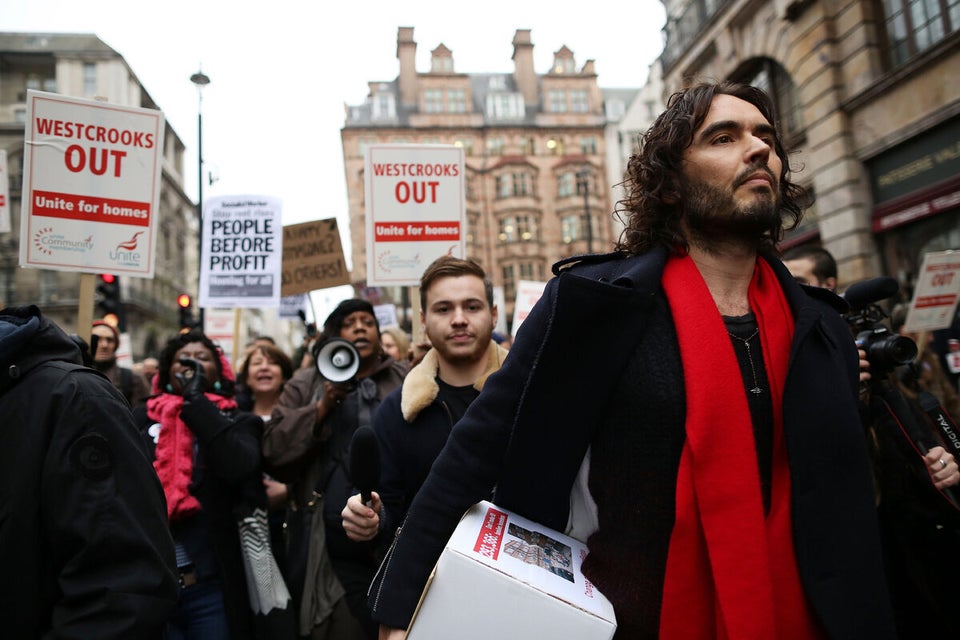 Russell Brand saves New Era estate
The formula used to calculate personalised rent was based on research by the Joseph Rowntree Foundation into living costs. Tenants' rent would increase by 50% of their residual income - their income over and above that required to pay the current rent and the Joseph Rowntree Foundation's Minimum Income Standard for their household. Thereafter, and where tenants were found to have no income, their rent would be increased annually by only CPI inflation plus 1% for the remainder of their three year fixed-term tenancy.
In its information pack to residents, Dolphin Living said that if it works out that tenants can pay more than they currently do "your rent will increase".
However, it went on to explain that a "large rent increase would be unfair" so it would gradually increase rent each year until "you are paying your personalised rent".
Mr Gooding said the concept was designed to produce a policy that was "demonstrably fair" and ensured no one would be out-priced, but the National Landlords Association has warned the scheme may prove divisive.
The association also reportedly said the scheme was not sustainable, saying that if rent control was brought in "a lot of private landlords would just sell up so we'd have a reduced amount of rented properties in the capital".
Dolphin Living said it hoped to introduce the scheme to a further 900 properties by 2020 to help Londoners on low to middle incomes who are "increasingly priced out... but are unable to access social housing".