Weeks after beloved Cecil the Lion was shot, skinned and beheaded, disturbing images have emerged of children as young as seven posing with the corpses of animals that have been killed on African game hunts.
Among the shocking photos is a young boy holding the severed head of a giraffe - which is almost as big as the child himself.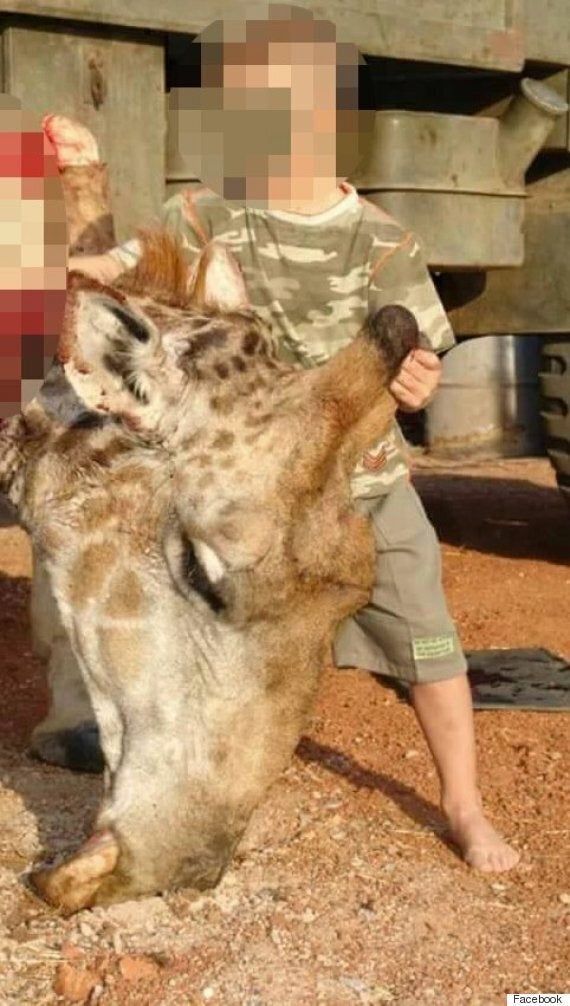 Child poses with the severed head of a giraffe
Another shows a boy leaning against a dead lioness while looking at his iPad and a further photo sees a child holding a gun, kneeling besides another lioness.
Last month, the world was outraged after Cecil, a 13-year-old Zimbabwean lion, was lured, maimed and killed by American dentist Walter Palmer, who was forced to close his practice following the furious backlash. Palmer maintains he did nothing wrong and believed he was taking part in a legal hunt.
These latest pictures of youngsters with the carcasses of Africa's magnificent beasts have been condemned by anti-hunting organisations.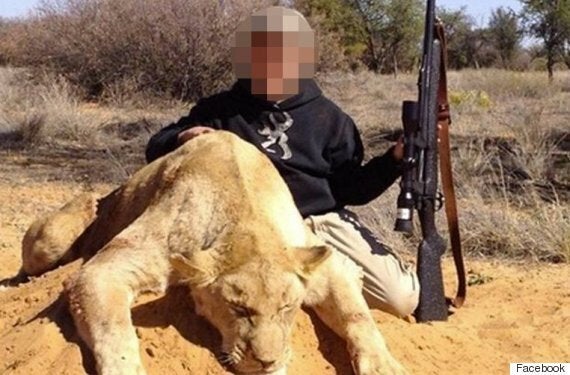 Reportedly Allen Tarpley's nine-year-old child posing with a gun and a dead lioness
The picture above is believed to feature Mr Tarpley's nine-year-old son. He boasted on Twitter using the handle @Safarihunter77 - which has since been deleted - that this was his son's "first lion".
Another photo posted to the social media site showed his seven-year-old son also stood next to a lioness with a gun in his hand.
Mr Tarpley said that he has since quit hunting because it was too expensive and added that those who oppose the bloodsport simply do not understand it.
Speaking to the Mail Online, the 38-year-old from Indiana said: "I have not hunted in years, in about three years. We quit hunting.
"We couldn't afford it and that's where I'm at. We did a couple of hunts and that's it.
"People can say however they like. Everyone is entitled to their opinion. There are people that don't understand hunting and what it does. People don't understand it."
Dozens of people complained to Mr Tarpley about the images.
Campaigners unearthed another disturbing image of a young boy leaning against the corpse of a lioness, looking at his iPad.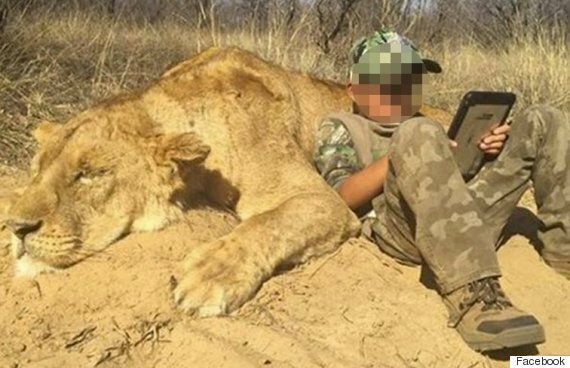 A young boy plays with his iPad while leaning against a dead lioness
Anti-hunting group 'We Will Not Be Silenced About Hunters' uncovered the photos.