Banksy will open his most ambitious project to date in the seaside resort of Weston-super-Mare on Saturday -- and The Huffington Post UK has been among the first to take a look around.
Sitting front and centre on Weston's sea front promenade, Dismaland is hard to miss with its sinister structures that appeared almost overnight.
The 2.5 acre site seafront site has been outfitted with a fairytale castle, a boat pond full of asylum seekers, two juggernauts performing ballet and an anarchist training camp running classes in how to break into bus billboards.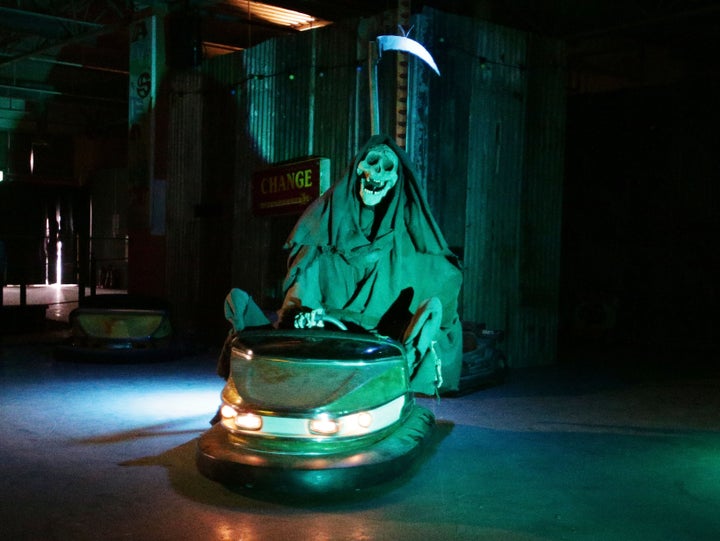 Death rides the dodgems at Dismaland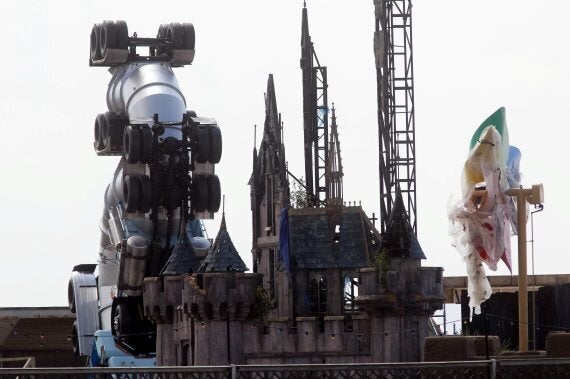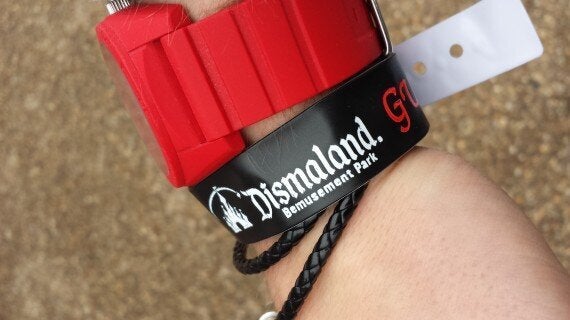 Banksy said: "This is an art show for the 99% who'd rather be at Alton Towers."
Just like Disneyland, guests are given wristbands which bear a logo with remarkable similarities to the American company's Cinderella castle symbol.
But the similarities stop there. Everything here is a striking shade of bleak colour. Black, brown, mucky grey with occasional shots of sharp red - even the staff.
As you enter the attraction, a mock security area awaits complete with - characteristically miserable - guards. All around is Banksy-esque artwork, fake props, and fake body scanners.
Everything is dull, clinical and leeched of colour.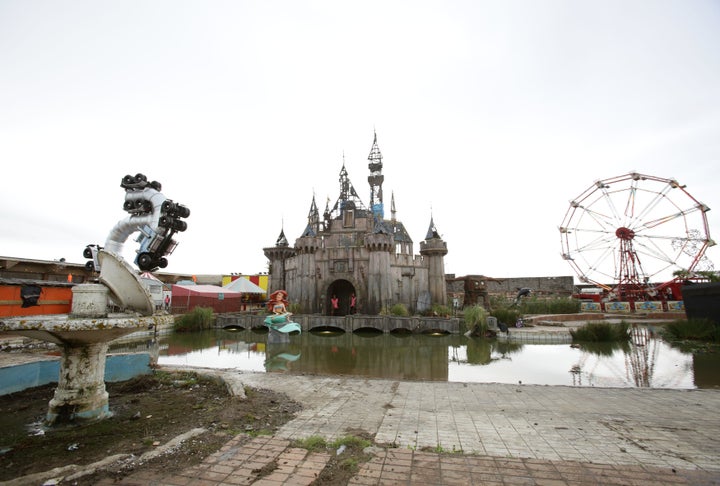 The first panorama that awaits inside
The main attraction used to be Weston-super-Mare's lido but is now dominated with what used to Cinderella's castle, now rotting and exposed.
To the left is a statue of Disney's Ariel mermaid contorted is such a way as to make her look as if she is having difficulty downloading something from the internet.
Across the water is a submerged police van, originally used in Northern Ireland but is now here with a water fountain instead of a gun turret.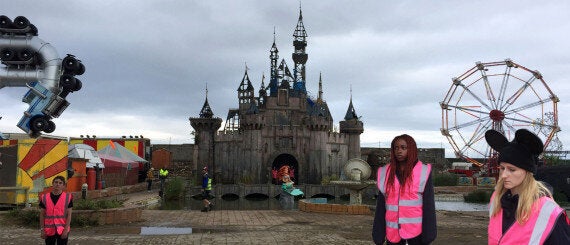 Bleak is an understatement
Inside Cinderella's castle lies possibly the exhibition's most poignant exhibit.
After visitors have a photograph taken against a green screen, they stumble through the darkness to find an overturned carriage.
Lying besides it is a dead horse, made in the classic Disney style. Within the carriage lies Cinderella, have inside and half out, apparently dead.
This doesn't dissuade the half dozen paparazzi whose cameras flash incessantly capturing every inch of the tragic scene.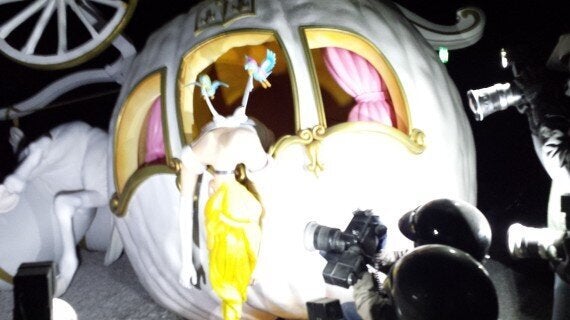 A brutal and shocking reference to the death of Princess Diana in Paris
A sign close to the central pond reads: "Free Hot Dog: for anyone who can guess what animal is in their hot dog."
And the attraction is truly family friendly - sort of.
An installation named 'Pocket Money Loans' is on site, allowing children as young as 5 to buy toys on credit - with the extortionate interest rates glimpsed only when they bounce on a trampoline.
A huge gallery runs the length of the site, housing works of artists such as Damien Hirst, Jenny Holzer, Jeff Gillette, and of course Banksy himself.
Indeed, Banksy has 10 pieces accredited to him across the venue - Cinderella's castle being the biggest, with the most humorous being a custom-made dodgem ride, depicting a grinning Death cavorting manically in a small car.
Intermittent announcements cast a child's voice across the venue, "Remember, ambition is just as dangerous as complacency," the voice says.
While today's preview was limited to the World's media, tomorrow will see local residents given free tickets to experience Dismaland themselves.
In true Banksy style, the local newspaper the Western Mercury was given the first scoop on the event, and local residents have to buy the paper to get in.
Before this week, just four local councillors knew the full details of Banksy's plans.
Banksy added: "I banned any imagery of Mickey Mouse from the site. It's a showcase for the best line up of artists I could imagine apart from the two who turned me down."
"I thought it was more than a film set," Ealine Buss, a Weston resident standing outside the entrance says, "the local council has got its act together over the past six months with this place, now we know why."
"It's wonderful, it's his way of giving back to the town. He's a local lad, he knows what's been going on with the Tropicana."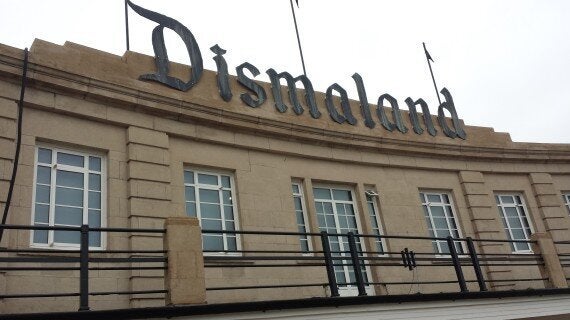 The entrance to Dismaland
Many others were clueless as to what was going on, resigned to asking the dour looking security guards placed outside the venue to heighten the miserable experience from the start.
The former Tropicana venue has lay vacant for 14 years, and was most recently used as temporary storage for the town's sea defence scheme.
As with much of Banksy's work, the entire project has been laced with secrecy and diversion. Locals were told a Hollywood film company were using the site as a backlot.
Story continues after slideshow...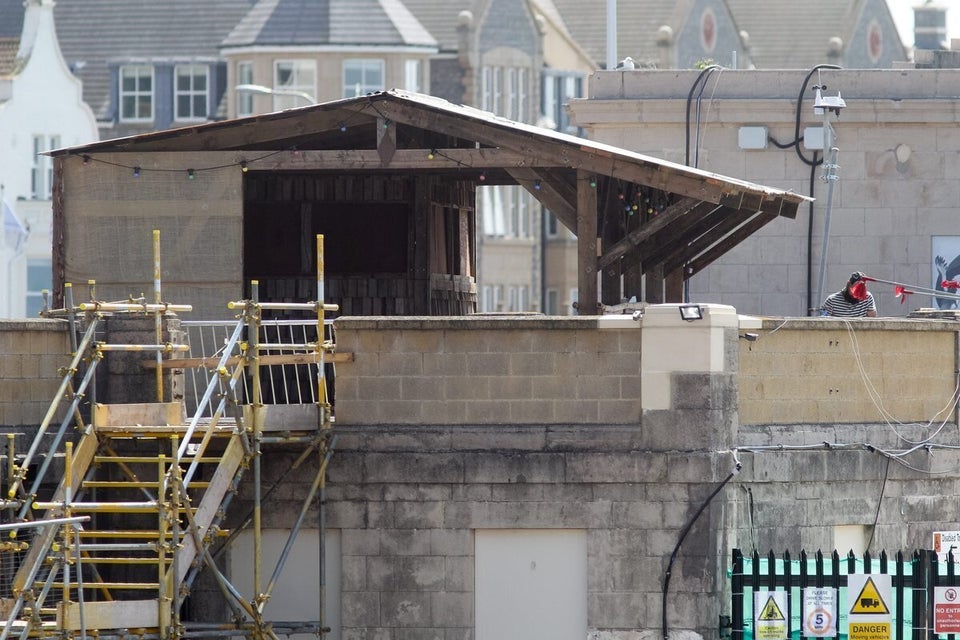 Underwraps: 'Banksy' at Weston-Super-Mare, Somerset
If the point of the project is to highlight the hollowness of where we choose to spend our leisure time, the Tropicana seems the perfect choice – even its unrivalled vista over Weston couldn't save it in the end.
This isn't the first time Banksy has targeted The Walt Disney Corporation. In 2005, he placed a figure dressed in an orange jumpsuit in the Thunder Mountain enclosure at Disneyland in California.
In 2011, he created a piece for Greenpeace which depicted characters of "The Jungle Book" being executed.
And he is thought to have defaced the company's advertisements in the past.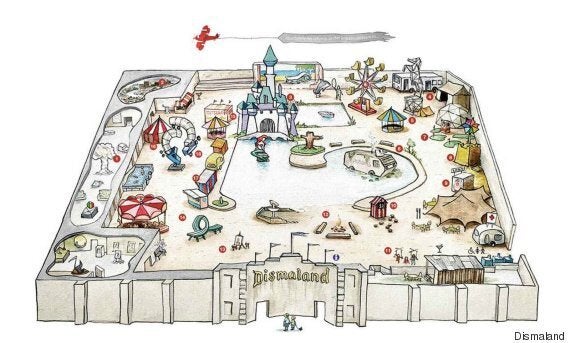 An illustrated map of the park mirrors those of commercial attractions
The park will house three galleries of work by contemporary artists, "the finest collection of contemporary art ever assembled in a North Somerset seaside town," according to its website.
Friday nights during its five week run will include live events. Run the Jewels, Sleaford Mods, Massive Attack, Pussy Riot, and comedian Katherine Ryan are all slated to appear at the venue.
There will be a hand-crafted model village, a 'bus-mounted' museum, an outdoor cinema, and the entire site will be 'powered by a giant pin wheel' designed by Banksy.
Dismaland opens on Saturday 22nd August and runs until 17th September.
Tickets cost £3 for adults while children under 5 go free. Booking in advance is advised as demand is likely to be high.
Popular in the Community