As a keen gardener, Sharon Vos-Arnold is used to being bitten by bugs.
But the 53-year-old never could have guessed that one small bite would leave her in a coma and fighting for her life.
"I washed it to make sure it was clean. It started as a small dot with a puffy red ring around, over the weekend the ring around it got smaller and the dark centre got bigger."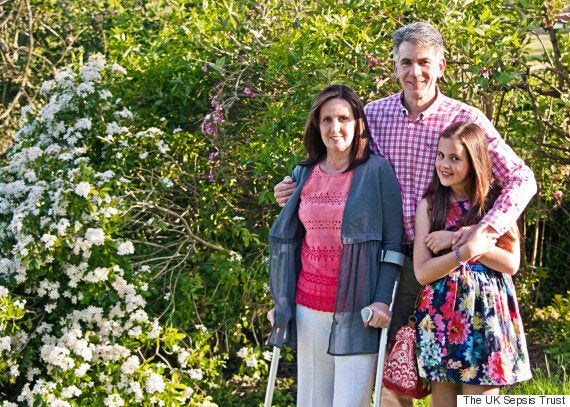 The mother-of-four was rushed to hospital three days after sustaining the bite.
There, doctors told her that although the bug was probably not poisonous, it had caused a bacterial infection that resulted in blood poisoning, which is medically known as sepsis.
Dr Ron Daniels, chief executive of The UK Sepsis Trust and an NHS consultant in critical care and anaesthesia, explains that sepsis is "a life-threatening condition caused by the body attacking its own tissues and organs in an abnormal response to an infection".
"It can strike anyone at any time - it doesn't discriminate by gender, age or ethnicity," he tells HuffPost UK Lifestyle.
"Part of the problem is the early symptoms of sepsis mimic other illnesses, like flu, making it hard to diagnose even for trained professionals. But if it's not recognised and treated fast, it can be fatal."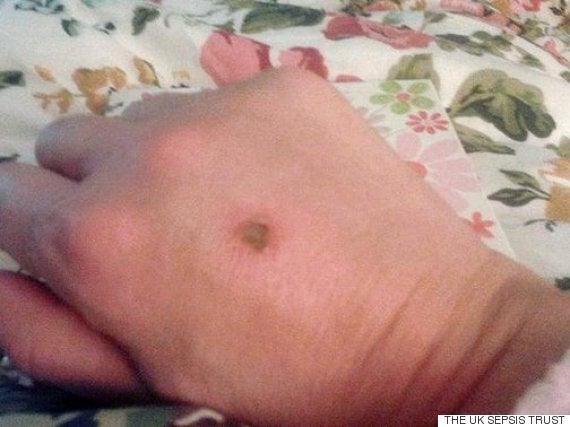 The bite on Sharon's hand
There are six symptoms to look out that could be a warning sign of sepsis, including slurred speech, extreme shivering or muscle pain, trouble passing urine, severe breathlessness, mottled or discoloured skin, and some sufferers say they 'feel as though they might die'.
Early signs of a flu-like illness, chest infection, diarrhoea and vomiting or inability to eat and drink, together with one of those six symptoms of sepsis should be taken seriously, Dr Daniels says.
Usually, sepsis is treated by giving the sufferer antibiotics and fluids to protect organs and lower blood pressure, but as Sharon began to experience kidney failure, doctors put her into a medically induced coma while they treated the infection.
After two weeks, doctors woke Sharon from the coma, but she lost 50% of her hair due to the ordeal.
She is now at home recovering and wants to share her story in order to raise awareness about sepsis and the potential dangers of bug bites.
According to The UK Sepsis Trust, someone in the world dies from sepsis every three and a half seconds. The disease kills around 37,000 people in the UK each year, yet it is still a relatively unknown condition.
The charity has teamed up with best-selling novelist, Amanda Prowse, to raise funds needed to continue spreading the word.
Amanda's 10th novel, Three-and-a-half Heartbeats, will be out on 10 September and all the proceeds from its sale will be going to The UK Sepsis Trust.
Three-and-a-half Heartbeats is available to pre-order now for £1.89.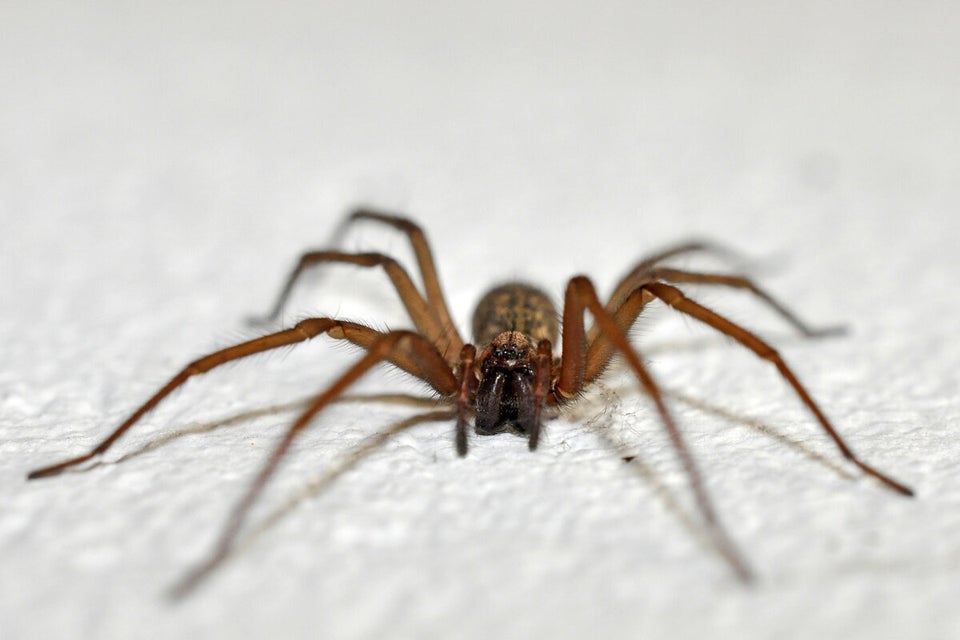 Horrible House Bugs