A year ago anyone who was either lactose-intolerant or looking to cut down on their dairy consumption had one option to splash on their cereal: soya.
Once tucked away at the back of the supermarket or in specialist health food shops, now "free-from" products take pride of place alongside their counterparts. And about time too.
The recent health and wellbeing revolution in the UK is seeing more and more individuals are re-evaluating their diet and choosing to cut back on dairy, gluten and sugar - or, in many cases, all three.
At the forefront of this change is Bethany Eaton, the founder of Co Yo, the UK's first coconut milk yoghurt range.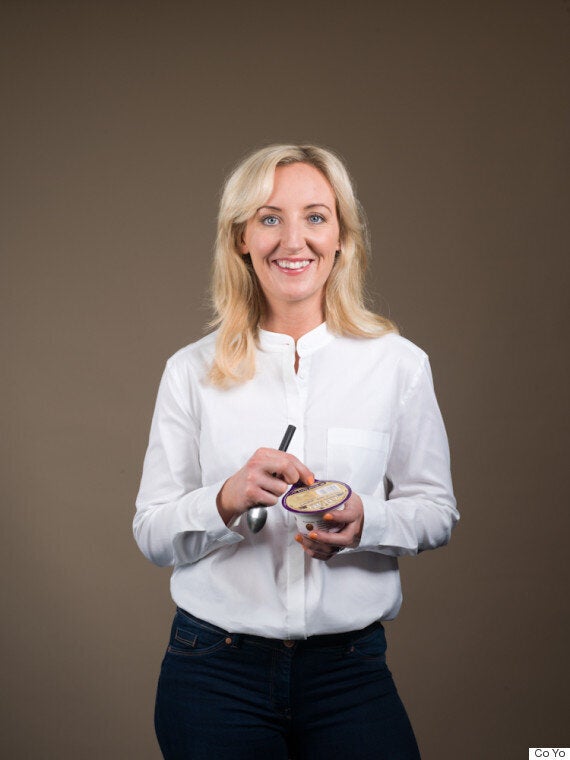 She first launched the brand in 2012 and over the past three years has seen exponential growth, with a turnover of £600,000 in the first year rising to £4 million in 2015. Thanks in large part to being stocked in major supermarkets such as Tesco and Ocado.
Eaton, now 36, originally worked as a police officer for six years, but late shifts and stresses of the job took their toll on her body. She decided to seek help from a nutritionist and it completely changed her life.
"Late nights and not eating right due to shift work it put a big strain on my body, I felt down and depressed and suffered from bad skin," she tells HuffPost UK Lifestyle.
"When you're tired and hungry you just eat anything. I didn't realise the effect that junk was having on my system. I decided I wanted to learn more."
Inspired, she retrained as a nutritionist, studying part-time from home and earning a BSc in Nutritional Medicine at Thames Valley University in Ealing.
"I never went to university in my twenties, because I didn't really know what I wanted to do. I had a good career I just knew it wasn't for me and I wasn't 100% satisfied with my life. I felt that I could be doing bigger and better things, that's why I decided to study."
She graduated in 2010 and started working with other nutritionists at the Hale clinic since 2008. During those years, Eaton was dairy free and so were her clients - but she soon realised that there were no products on the market that were soya-free and dairy-free.
"I saw a gap in the market, no one had brought out a coconut yoghurt in UK," she says. "Selfishly I wanted it for myself, I was exactly the sort of customer who would want a healthy, dairy and soya-free, Greek-style yoghurt and so I decided to bring a product to the UK."
Eaton soon discovered Co Yo, a coconut yoghurt that had launched in Australia by a couple Henry and Sandra Goslin. She saw potential for it to launch in the UK and got in touch.
"I called them one afternoon when I was sat in the garden, not realising that it was about 2am their time. Sandra calls me 'the crazy English woman who woke her up'."
Using her nutritional background, Eaton suggested some changes to the product to make it more marketable to the health and dairy-free crowd - namely cutting out sugar and using pure coconut milk to make the product vegan-friendly.
In 2012, Eaton and her husband Paul re-mortgaged their house to secure the rights to manufacture Co Yo in the UK and Europe.
"I knew that if we didn't do it then someone else would have," she said. "And when I've got an idea in my head I've just got to do it."
Paul quit his job to work full-time on Co Yo and the couple hired a third party manufacturer to produce the yoghurt. But the brand grew so rapidly that they soon expanded to their own factory in Kent, where they currently employ a team of 25.
"Looking back three years I would never had guessed that I'd have ended up where I am now. But I believed 100% in what I wanted to do, had a feeling would do well. I knew people would be excited when they found it on the shelf," she says. "We took a risk but the product has grown because of our confidence, passion and belief."
Given her success it's no surprise that her advice to people starting their own business is to take baby steps.
"Don't think you have to spend loads of money to start up your business. I started small, we didn't go to all supermarkets straight away, we started with the health food trade and built business there, growing personal relationships.
"We didn't rush into it, we only expanded after two years of being on the market. Once we saw successful and once on the market and money in the bank account."
She also used the skills available to her to the best of her advantage: "I used my family and friend's skills for low cost or in return for yoghurt. My dad is a designer, so we didn't spend loads of packaging design or branding. We used someone we knew who could do social media, now it's massive. She still works on the team, but my dad doesn't do design anymore because he outgrew it."
It is only now, after hiring a team to work on Co Yo, that Eaton has finally been able to get her life back.
From day one she's been juggling studying, work and a young family - having fallen pregnant with her first daughter Megan shortly after beginning her nutrition course.
As she began her nutrition course, she fell pregnant with her first daughter Megan. It was only after her daughter was born that she decided to quit the police.
From then it was a case of fitting in her studying around being a new mum - catching moments when her baby was asleep, when her husband was home from work or when she could drop the baby at a family members.
"The course took longer than planned - I was meant to finish it in three years but took five years - but I still achieved the same result in the end," she says. "I think if you really want to do something and you're passionate about it, you will find the time."
Once the couple launched Co Yo from humble beginnings it was non-stop, and Eaton admits "there was no work-life balance".
"I've now got the flexibility to be a mum as well, as well as sustaining a successful business which I haven't had for three years," she says.
"I was working round the clock from the moment I woke up checking my emails and dealing with problems while the kids were having breakfast. Then I'd put them to bed at half seven and be doing the accounts or something else."
Now she has strict rules about work-life balance to ensure she gets to spend time with her husband and their children, Megan, 8, and James, 3.
"I have a rule now, not to check my emails until the kids have gone to school," she says.
And what about after they kids have gone to bed?
"No, I put my feet up. I make dinner for me and my husband, we sit down and we chill out," she says. "Work is left at work. My evenings are my evenings and my weekends are my weekends."
"I have my life back. It's been a hard three-year slog, but if there is one thing I've learned it's that you have to draw a line between work and home."
Matcha CO YO will be available from Ocado this September, priced from (RSP) £1.99 p/125g pot.