A British businessman said he helped three Americans overpower a gunman who opened fire on a train because he thought he was "probably going to die anyway".
IT consultant Chris Norman, 62, said he knew he was facing a terror attack "the moment that I stood up and saw a guy with an AK-47" on the Amsterdam-Paris train.
After giving evidence at Arras police station in France, he told waiting press: "My thought was 'OK I am probably going to die anyway so let's go'. I would rather die being active, trying to get him down than simply sit in the corner and be shot."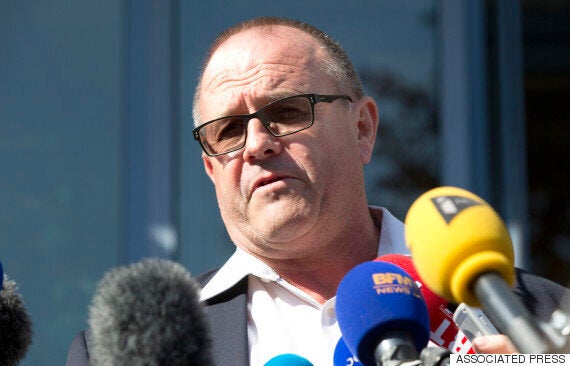 Chris Norman has told how he "thought he was going to die" during Paris gun drama
The married grandfather-of-two helped fellow hero passengers including US Air Force serviceman Spencer Stone, National Guardsman Alek Skarlatos and Sacramento State University student Anthony Sadler to tackle the gunman, who was armed with an AK-47 and a handgun.
A 26-year-old Moroccan man was arrested and anti-terror police are leading the investigation. French interior minister Bernard Cazeneuve said the suspect's identity had yet to be confirmed, but it was believed that he had radical Islamist beliefs.
Mr Stone and Mr Skarlatos, who had returned from a deployment in Afghanistan in July, grabbed the man to bring him under control while Mr Sadler and Mr Norman joined them to help.
No one had any time to think about the danger they faced, according to Mr Norman, who described the passengers' reactions as "very rapid reasoning".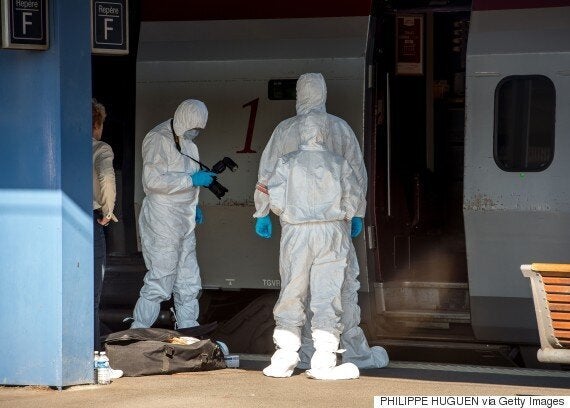 French forensics police officers inspect the crime scene
Mr Norman, who lives in France, was facing towards the back of the train when he heard "glass breaking and then saw somebody running down the aisle to the front of the train". Then he spotted the AK-47.
He told reporters: "My first reaction was to sit down and hide. Then I heard one guy, an American say 'go get him'. Then I heard another American say 'don't you do that buddy' or something like that.
"Then I decided that perhaps this was the only chance for us to act as a team and try to take over."
Earlier Mr Norman had said: "We ended up by tying him up, then during the process the guy actually pulled out a cutter and starting cutting Spencer.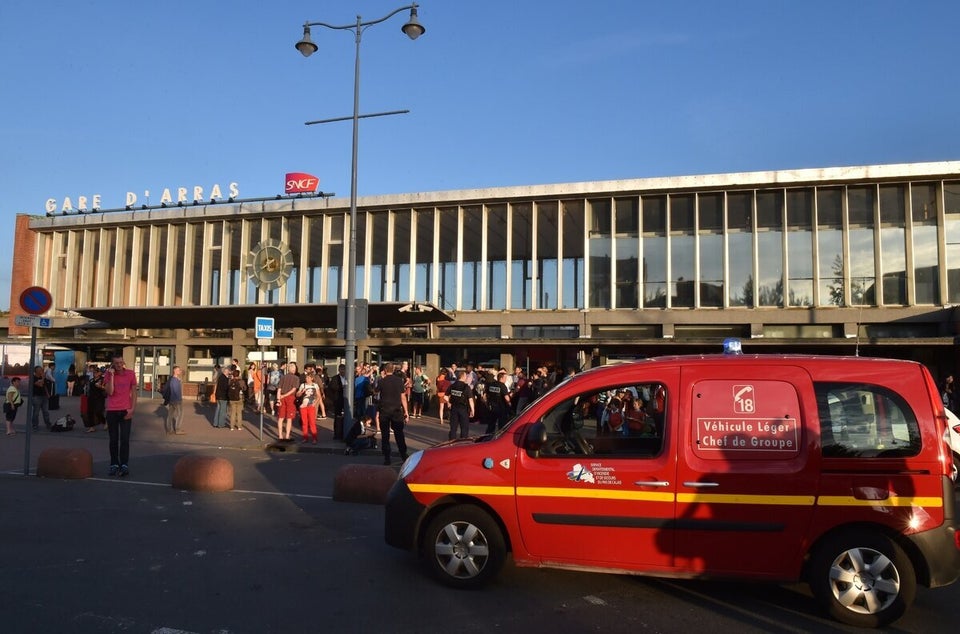 Arras Train Shooting
"He cut Spencer behind the neck, he nearly cut his thumb off too. Spencer held him and we eventually got him under control. He went unconscious, I think."
Mr Skarlatos freed the handgun from the man and threw it away. He then grabbed the AK-47 which was at his feet and started "muzzle-thumping him in the head with it".
He told Sky News: "Everybody just started beating on the guy while Spencer held the choke hold, until he went unconscious at that point. People started to restrain him."
Mr Skarlatos picked up the AK-47 and checked the other carriages in case there was another gunman.
He returned to carriage 12, where it all started, cleared the weapons and put them in a pile.
He told Sky News: "I noticed when I removed the round in the chamber of the AK that the primer had been struck, which means he pulled the trigger on the AK.
"The primer was just faulty, so the gun did not go off, luckily, and he did not know how to fix it, which was also very lucky.
"When I cleared the handgun I also noticed that there was no magazine in it - so he had either dropped it accidentally or did not load it properly. He was only able to get what appeared to be one shot off with the handgun."
Mr Norman and the two uninjured Americans were awarded a bravery medal from the local mayor.
The White House claimed their actions had helped prevent "a far worse tragedy" while a No 10 spokesman said the Prime Minister praised "the extraordinary courage" of the passengers.
Among the 554 people on board was French actor Jean-Hugues Anglade, the star of Betty Blue and Nikita, who was lightly wounded breaking glass to sound the alarm.
In an interview with Paris Match magazine Mr Anglade said train staff entered a private cabin and locked it when they heard gunshots, leaving the passengers alone.
He said: "I really could see us all dying because we were all prisoners in that train, it would have been impossible to escape from that nightmare."
France has been on edge since the attack on the Charlie Hebdo magazine and a Jewish supermarket in Paris in January, which left 17 people dead.
Related