Matthew Grimstone and Jacob Schilt - both reserve players for Worthington United FC - died along with personal trainer, Matt Jones, 24.
Matthew and Jacob were on their way to play Loxwood FC at Worthing's Robert Albon Memorial Ground when the incident happened.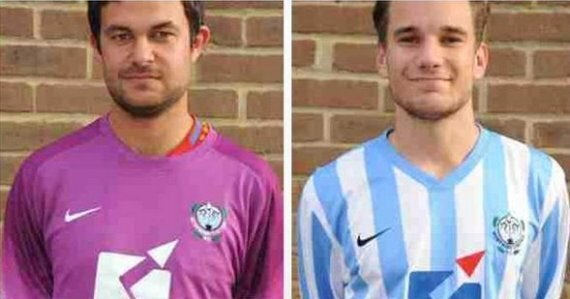 Matthew Grimstone and Jacob Schilt
The family of Matthew Grimstone paid tribute to their 23-year-old son saying: "He was the kindest person you could ever meet, with a great wit."
More bodies may be found as investigators and emergency services continue to search the scene of the Shoreham Airshow plane crash, police said.
Seven people died when an historic Hawker Hunter fighter jet plummeted on to the A27 at Shoreham in West Sussex after failing to pull out of a loop manoeuvre.
The pilot was flown to the Royal Sussex Hospital, where he is in a critical condition and fighting for his life, Superintendent Jane Derrick, from Sussex Police, said.
He was named in reports as Andy Hill, a former RAF pilot.
A further 14 people were injured, four of whom were taken to hospital, after the jet crashed at around 1.20pm on Saturday, shortly after beginning its display in front of thousands of spectators.
Horrified onlookers described seeing the plane flying low to the ground followed by a "huge ball of fire and black smoke".
The pilot has been named locally as RAF Harrier jump-jet flier Andy Hill
Footage posted online showed the jet carrying out a loop manoeuvre high in the air before smashing into the road in a huge fireball after failing to pull up in time.
Supt Derrick said: "Sadly we believe that seven people have lost their lives today when the jet crashed.
"As far as we are aware all those who sadly lost their lives were on the road, and it was nobody within the air show perimeter on the actual airport.
"At this time we are continuing to search ... the area to ensure that we have identified all the casualties.
"It is possible that tonight and tomorrow we are going to find more bodies at the scene."
Supt Derrick would not comment on earlier speculation that the dead included two cyclists, but said there were "a number of people and bikes at the scene and the officers are working through that at the moment".
She was also unable to say whether the pilot was able to eject. One of those injured was released from hospital last night.
David Cameron sent his "heartfelt condolences" to the families of those who died in the crash.
A Downing Street spokesman said: "The Prime Minister sends his heartfelt condolences to the families of the people who were so tragically killed after a jet crashed into several vehicles in West Sussex.
"The Prime Minister's thoughts and prayers are with the families and friends of the victims."
Today's airshow has been cancelled as a mark of respect, organisers said.
Photographs taken by witnesses showed the burning aircraft ploughing across the busy road just yards from cars and a group of people, its cockpit canopy open and wing ablaze, engulfing traffic lights, roadwork cones and signs in a huge ball of fire.
Burning debris was also visible high in the air.
One of the vehicles caught up in the tragedy was a wedding car on its way to pick up a bride to take her to her wedding, the Sun on Sunday reported.
The Daimler, which had its roof ripped off by the impact, belonged to Chariot Chauffeurs, with the company's Jay Sherwin telling the paper: "I can confirm that it is one of our cars but at this stage I do not know what happened to the driver."
Splash FM presenter Laura Raymond said the accident happened less than a quarter of a mile from where spectators were watching the event.
She said a "couple of planes" were taking part in a jet display when one appeared to fly too close to the ground before onlookers saw a "huge ball of fire and black smoke".
She told Sky News: "We were watching the displays ... and the fast jets were going on.
"Within seconds we were thinking, 'gosh, that plane is going rather low'. There was a ball of fire, we didn't even hear an impact, and then plumes of black smoke."
Royal Air Forces Association secretary general Nick Bunting said their thoughts were with those affected by the accident and it was "too early to speculate" about the future of the event.
Police appealed for the public to stay away from the crash site while officers continue searching the area. A dedicated phone line for concerned relatives has been set up on 01273 470101.
The Air Accidents Investigation Branch (AAIB) is now leading the investigation into the cause of the crash, with a spokesman saying it had a team on site.
The crash damaged the A27 and Highways England said it would remain closed until at least 6am on Monday.
Tim Loughton, Conservative MP for East Worthing and Shoreham, said: "Given the many thousands of people attending the airshow we thank God that the aircraft did not hit a larger crowd. Our thoughts and prayers are with those affected."
It is the second tragic incident at the Shoreham Airshow in recent years.
In September 2007 James Bond stuntman Brian Brown, 49, died when he crashed a Second World War Hurricane after carrying out an unplanned barrel roll at a Battle of Britain re-enactment.
Anyone with video or photos of the incident has been asked to email shoreham.airshow2015@sussex.pnn.police.uk to advise police what footage they have. Officers will then ask for images to be sent if they wish to see them.
Popular in the Community