Mum of three Rebecca Ferguson opens up about what it's like to have a partner leave you during pregnancy, which happened when she was expecting her third child, Arabella.
"It was really hard. I think it's a subject that women don't like to talk about; I think there's an element of shame.
"I felt that much pain when I was pregnant that I felt like there will be other women who will be feeling that and they too don't feel like they can talk about it."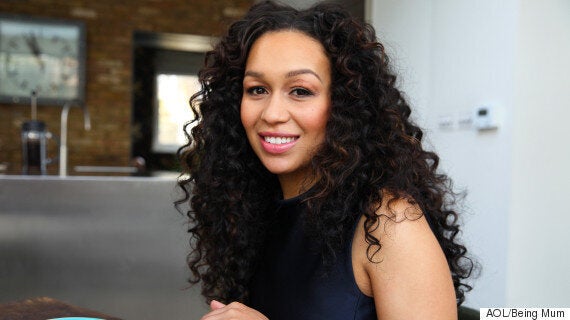 Arabella's father broke up with Ferguson when she told him she was pregnant - and also admitted he had another girlfriend.
"It's something that is quite private but at the same time, I'd like to think I've helped people by opening up about it."
Ferguson's experience prompted her to set up a website (while still pregnant) for single mums to help provide them with a support system connecting them to other women in the same position.
Chatting to Tess Daly as part of AOL Original series Being Mum, Ferguson, who is mum to Lillie May, 10, Karl, nine, and baby Arabella, who turns one in November, talks about the unexpected way she found out she was pregnant with her third child: while performing live on Loose Women.
"A couple of seconds into the performance I was really ill. I thought, 'Ooh, this isn't good,' and I needed to stop. You can't stop! So throughout the song I'm saying to myself: 'Get through it, get through it, you're on live telly.'
"The music stopped and then they took the camera away from me and so I thought, 'Oh OK,' and that was it. Then I just ended up going to the floor."
Ferguson also opened up about what it was like to be a young mum - she was only 18 when she had her first child.
"I didn't really have a clue, if I'm being honest," she tells Daly.
"I kind of winged everything, but I remember being like, 'Oh my god, this is my baby, this is my responsibility,' and all of a sudden I had this little bundle of joy needing me.
"I think instinctively as a mother you know what to do, but I think when you're a young mum, people question you more and that was hard. Now, when I look back, I feel a lot more comfortable in my own skin now I'm older."
Even though she felt unprepared when she first became a mother, Ferguson says her children are "just my world."
"I've been really lucky to have really polite, lovely children," she gushes, revealing that when it comes to her parenting style, she's quite "old fashioned," meaning she's strict on manners, respect and treating elders well.
Watch the video above to see Ferguson talk about health issues in her third pregnancy, the importance of creating a community where single mums can get advice and juggling her hectic work schedule with a newborn.
"It's kind of built in a woman, isn't it? Every woman. You've had a few kids and you do what you gotta do."
The Being Mum series, hosted by Rochelle Humes and Tess Daly, is a beautiful and humbling series that defines what it means to be a mother today.
In each episode Rochelle or Tess will meet a well-known personality, or a mother with a remarkable story, to discuss the ups, the downs, the ins and outs of what being a mother is really like.
Related