An interest rate cut by China's central bank intensified the stock market's rally as the FTSE 100 Index fought back from one of its worst sessions in recent years.
London's top-flight surged by more than 200 points, or 3.6%, adding about £54 billion back on to the value of the UK's top 100 listed companies after £74 billion was wiped off the index in the previous session.
It meant the blue-chip share index had recovered most of the losses suffered on Monday when it dived by 4.7% – a slump that came at the end of 10 days in a row of declines in the FTSE 100's worst losing streak since 2003.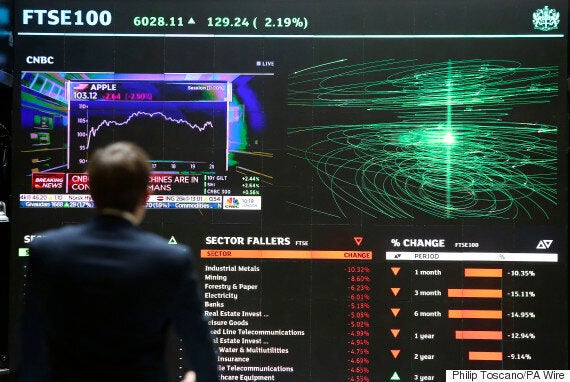 The FTSE bounced back to the tune of £54 billion on Tuesday after China central bank cuts its interest rates
The one-day drop – which followed on from a 2.8% fall on Friday – had not been equalled since September 2011 while there had been none worse since the dark days of the downturn in 2009.
Investors have been spooked by the continuing falls in the Chinese stock market – which saw its worst fall for eight years at the start of the week and plunged by a further 7.6% overnight.
But the London market bounced back in early trading in the latest session, with investors hunting bargain-priced stocks and the panic that had seen trading screens turn red the day before ebbing away.
There was further cheer when China's central bank slashed interest rates by 0.25 percentage points – the fifth cut in nine months - in an effort to shore up its economic growth.
It also increased the amount of money available for lending by reducing the minimum reserves banks are required to hold.
German's Dax rose 4% while France's Cac 40 added nearly 5%.
China's moves reassured global markets which have been rocked in recent weeks by the slowdown in the world's second biggest economy and the depreciation of the yuan – as well as plunging commodity prices.
Chancellor George Osborne said the volatility showed that "lots of risks" remained in the global economy and that Britain was "not immune to what goes on in the world".
London's top-flight remains in "correction" territory, more than 10% off its all-time closing high of 7104 in April.
But almost all top-flight shares were ahead Tuesday, with the index pulled higher by a recovery in commodities stocks which have been pounded by the falls in metal prices caused by China's woes.
Glencore was up 8% while Antofagasta and BHP Billiton each rose 7%.
Popular in the Community