Dr Dre has taken the striking step of speaking out, and making a public apology to the women he has previously mistreated, but two of the women involved have reacted very differently to his action.
Meanwhile, his former girlfriend Michel'le asked rhetorically why she would have ever had a place in the film, asking, "Why would Dre put me in it? I was just a quiet girlfriend who got beat up and told to sit down and shut up."
Dr Dre, who had previously referred to old incidents in an interview with Rolling Stone magazine, was more explicit in a statement to the New York Times, saying, "I apologize to the women I've hurt. I deeply regret what I did and know that it has forever impacted all of our lives."
But this has gone down differently with the two women.
Dee Barnes, while questioning whether it was a PR move by Universal Studios bearing in mind their film's success - or perhaps by Apple who support the 'Beats by Dr Dre' logo - nevertheless accepts the apology. She writes, "To me, the answers to these questions matter less than the fact that Dre stepped up and performed his social responsibility by finally taking accountability for his actions. Who cares why he apologised? The point is that he did."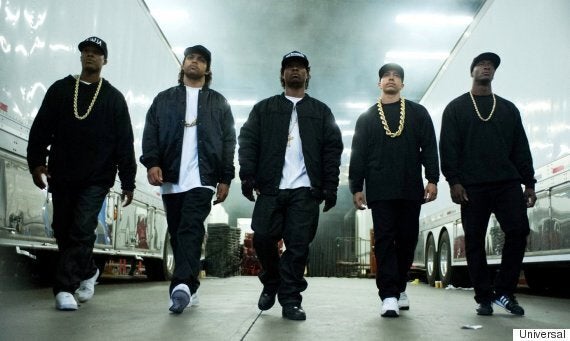 'Straight Outta Compton' tells of the story of N.W.A.'s rise to fame
For Michel'le, however, his words are by no means enough. She told the UK's Radio 5 Live, "I didn't ask for a public apology and I think if he is going to apologise he should do it individually. To just group us like we are nothing and nobody – I just don't think it's sincere. Treat us like we have names. He's selling a movie. I just think it's good PR at the moment."
'Straight Outta Compton' explores the rise and fall of the hip hop group N.W.A (Niggaz Wit Attitudes) and borrows its title from the name of N.W.A's 1988 debut studio album.. The film has swung past the $100million mark in the States, where it continues to sit at the top of the box office. The film will be released in the UK this week.