The makeup lurking at the bottom of your makeup bag could potentially be harbouring killer bacteria, a study has revealed.
Scientists at London Metropolitan University tested in-date and out-of-date cosmetics and found the majority contained a bacteria which can cause deadly illnesses.
Microbiologist Paul Matewele told the Daily Star: "All the old [out-of-date] makeup products of foundation, lip gloss and lipstick tested positive for enterococcus faecalis under strict laboratory tests.
"Enterococcus faecalis, is the potentially deadly strain of bacteria which causes meningitis and Septicaemia and is one of the biggest killers for newborn babies."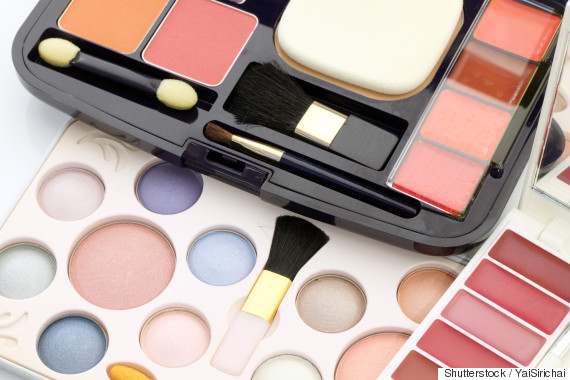 The study involved laboratory tests on five different beauty products sent in by women and beauty bloggers.
It was commissioned by online beauty retailer www.escentual.com.
Four out of the five products were out-of-date, but all of them were described as having "unsafe levels of potentially lethal bacteria".
In total, six different types of bacteria were found on the high-street cosmetics.
The other five were:
Eubacterium – causes bacterial vaginosis.
Aeromonas – one of the causes of gastroenteritis and wound infections.
Staphlyoccocus epidermidis - a bug which is resistant to antibiotics.
Propionibacterium - main cause for acne and other skin conditions.
Enterobacter – causes urinary and respiratory tract infections.
Dr Susan Mayou Consultant Dermatologist at Cadogan Cosmetics told HuffPost UK Style: "Makeup contains preservatives to protect the product from bacterial and fungal infection and these preservatives have a shelf life beyond which they will be less effective.
"Bacteria lives on the skin and can be introduced into makeup via sponges, brushes and mascara wands.
"Once bacteria has been introduced to the out-of-date makeup, it can then mature and spread back onto the skin leading to irritation or infections especially if there is a break on the skin."
SEE ALSO:

Tantouring Is The New, Semi-Permanent Way To Contour. Here's How To Do It

Becca X Jaclyn Hill Shimmering Skin Perfector In Champagne Pop: The Highlighter Everyone Is Obsessed With
Laura Byrne, 26, who sent in her nine-month out-of-date blusher to be tested was shocked at the results.
She told The Express: "I was aware that I had kept it well past its use by date but didn't think for a minute that a blusher to contain killer diseases growing in it."
Grace Day, 22, who sent in four-month out of date foundation said she will be throwing out off her out-of-date make up in the future.
CEO Rakesh Aggarwal of Escentual said, according to the Daily Mail: "Most women are totally unaware that their cosmetics are a potentially breeding ground for deadly bacteria.
"But if you think about it you wouldn't keep food for months after the use by date so why should this be acceptable for cosmetics."