This story contains graphic content
Some 59 men, eight women and four children perished in the back of a lorry abandoned at the side of the road in Austria, police have revealed.
Police said that blood was seen dripping from the vehicle and a horrendous smell surrounded it, before scores of badly decomposed bodies were discovered inside.
According to Reuters, Helmut Marban, press officer for Burgenland police, said a highway patrol had spotted the truck and at first thought it was damaged or had been in an accident.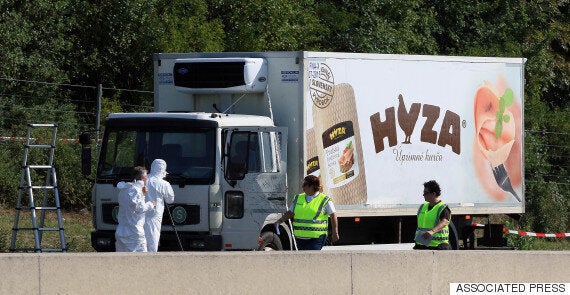 The lorry was found to contain the decomposed remains of more than 70 refugees
Officials found the back door of the truck ajar and inside made the horrifying discovery.
Marban said: "When they checked they found it had no driver and blood was dripping out of the vehicle and there was a smell of dead bodies."
While the initial death toll was placed between 20 and 50 people, investigators struggled to place an exact number on the bodies because they were in such a bad state of decomposition, according to Sky News.
But on Friday the figure was revised up to at least 70 dead.
She said: "We drove by and any doubts I had had about whether this was the right truck were quelled - the smell of death was appalling.
"It wafted across the motorway - the terrible stench of lives ended, including children, whose parents thought they were escaping death, not heading towards it."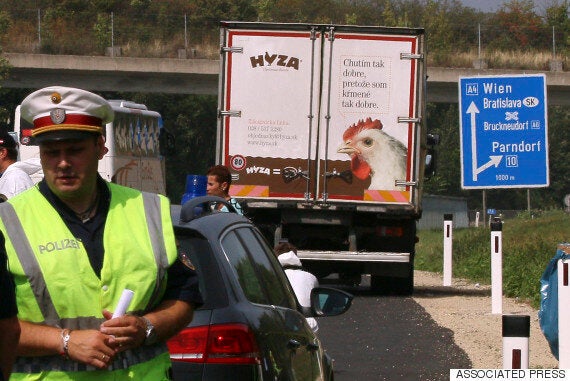 The lorry was found with the door slightly ajar
It is believed that, trapped inside the lorry, the people inside had suffocated, although this has not been confirmed.
Hans Peter Doskozil, head of Burgenland police, said that the identities of the dead were as yet unknown.
"We can assume, however, that they are refugees."
According to Krone, early investigations found that the truck was in Budapest early on Wednesday and crossed the border around 9am.
Sky News said that it is though that the people inside the lorry may have already been dead when it crossed the border from Hungary into Austria.
It was seen in Austria around 5am the next day and witnesses called police when it was not moved for some time.
According to local media, three people have now been arrested in connection with the deaths.
According to the BBC, although the lorry bears the logo of Slovakian poultry company, Hyza, the firm said it no longer owned the vehicle but the owner had not removed the branding.