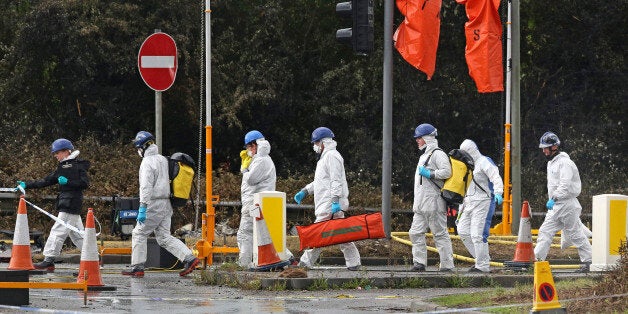 Police investigating the Shoreham air crash have thanked the public for its support after the force received an "overwhelming" amount of food donations.
The disaster has rocked the community, which has rallied together by donating more than £15,000 to an online appeal, while a local nursery offered free childcare to victims' families and survivors.
Sussex Police welcomed the "heartwarming" notes sent to staff but have now asked people to donate food, which has included cake and spaghetti bolognese, to nearby food banks, PA reported.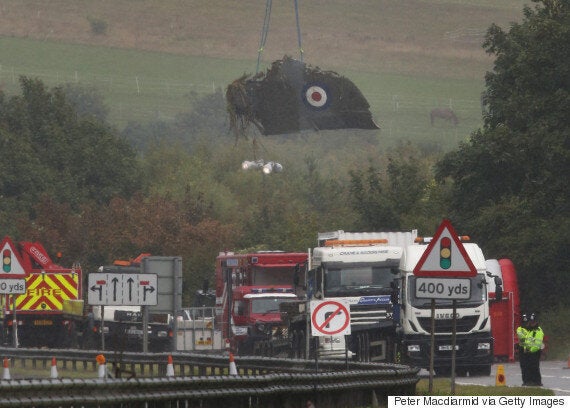 Police are removing wreckage from the scene
Assistant Chief Constable Steve Barry said: "We'd like to thank everyone who has donated food for our staff and others working at Shoreham over the last few days. Your support has been amazing. Today just the donations of spaghetti bolognese would have been enough to feed our staff.
"The amount of food we have received has been overwhelming and while we appreciate the support, we would not like to see it go to waste. Therefore we ask that if you still want to donate food please take it to one of the local food banks.
"I know that there are many people who want to help and these gestures really have boosted the morale of our staff."
It comes as another victim was named as grandfather Mark Reeves, 53, who died after parking his motorbike on the outskirts of Shoreham Airshow to take photographs of the planes.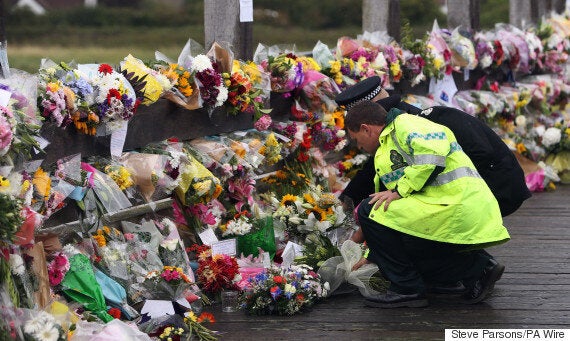 Hundreds of tributes were paid to the 11 confirmed dead so-far
His family described him as "a gentle, loving, incredibly giving family man".
Mr Reeves becomes the seventh person to be named among those who died in the disaster on Saturday.
Personal trainer Matt Jones, 24, also died, along with wedding chauffeur Maurice Abrahams, 76, a former soldier who had served in the Parachute Regiment.
Motorcyclist Mark Trussler and Daniele Polito, a father from Worthing, are both missing and are also feared to have been killed in the tragedy.
Story continues below slideshow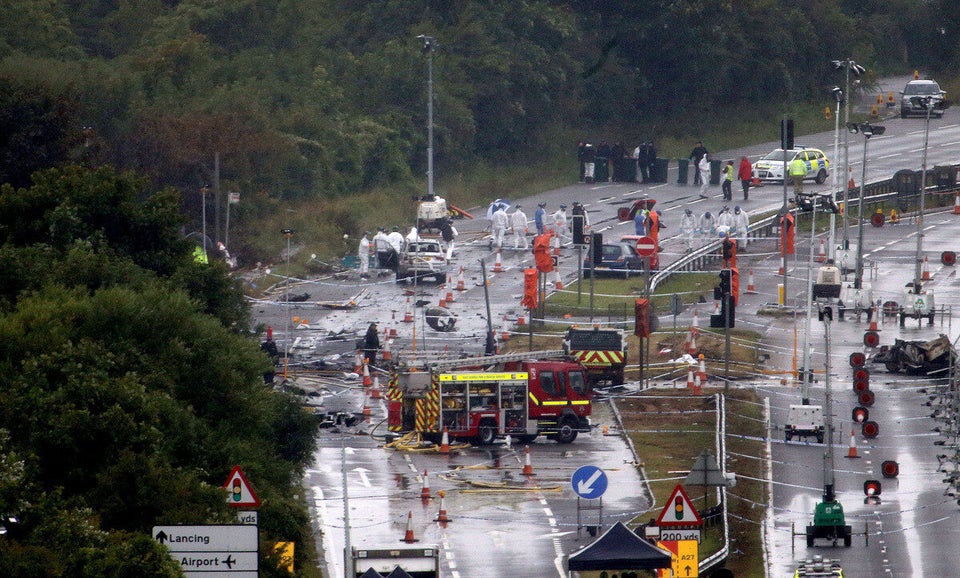 Shoreham wreckage removed
Formal identification of victims had begun, West Sussex coroner confirmed, but the plane crashed with such force that specialists - including forensic archaeologists, anthropologists, odontologists and pathologists - are having to examine DNA, teeth and human remains to discover who was killed.
Hundreds of floral tributes continue to be laid at a bridge near the scene, including by police officers and staff involved in the investigation.
The A27 has been closed since the crash, and Sussex Police said it is due to reopen on Bank Holiday Monday.
The plane wreckage has been sent to Farnborough, Hampshire, where Air Accidents Investigation Branch (AAIB) investigators will seek to find out what caused the crash. An interim report is due in the next few days.
The jet's pilot, Andrew Hill, was left fighting for his life after the crash, and has now been moved to a specialist hospital for treatment.
Related