If you're a dedicated follower of celeb-ville, then you might have clapped eyes on the Lady Garden jumpers currently being sported by the likes of Ellie Goulding and Cara Delevingne on social media.
But while you might think it's a little bit naughty to wear a top which basically exclaims "vagina" across your chest, the story behind it is not to be sniffed at. And ultimately it could save lives.
The motif jumpers have been released by the Gynaecological Cancer Fund as part of their #LadyGardenCampaign to raise awareness of gynaecological cancers.
Out of 1,000 women surveyed, a startling 65% felt uncomfortable using the word "vagina".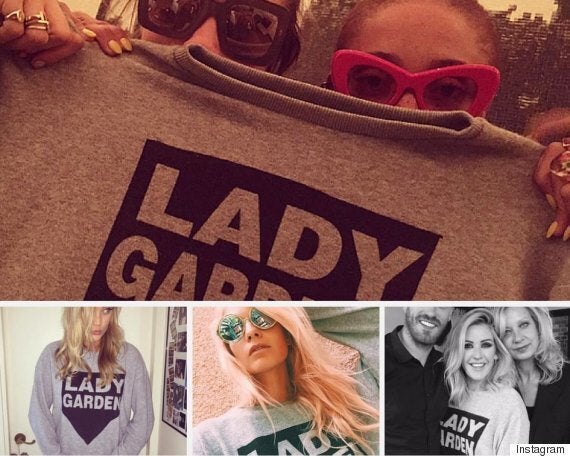 The Gynaecological Cancer Fund, which was launched by actress Mika Simmons and a group of female friends (Tamara Beckwith, Jenny Halpern, Astrid Harbord and Chloe Delevingne), aims to raise both funds and awareness for gynaecological cancers.
They also launched the Silent No More project which hopes to get more women talking about their vaginas.
The issue is close to Simmons' heart as she lost her mother, 54, to ovarian cancer when she was just 26 years old. This, she says, was totally devastating and "changed her life forever".
"It's likely she'd had recurring symptoms for up to two years before she was diagnosed but she just ignored them," Simmons tells HuffPost UK Lifestyle. "Possibly because that area of the body is constantly changing - but a huge factor was also that she didn't talk to anyone about it.
"Either way - by the time she was diagnosed she was already Stage 4 and died 9 months later. Since then I've always wondered, if she'd had more awareness would she be alive today?"
Simmons says that she can't help change that, but she can help other women experiencing gynaecological cancers, which are known as the "Silent Killers".
The Gynaecological Cancer Fund has now teamed up with designer Simeon Farrar ("who now knows every nickname for a Vagina under the sun") to create stylish Lady Garden jumpers in a bid to combine fashion with a very serious topic among females.
"Our mission is to empower women everywhere to talk more openly – without shyness or shame," reads the site.
The jumpers will be available to buy from Topshop on 3 September. Alternatively, you can show your support by donating £5 to the Gynaecological Cancer Fund by texting 'LADYGARDEN' to 70755.
Supporters of the campaign include...