Hundreds of Britons are calling on the government to take in more refugees, with some even offering their homes as the numbers being taken in remains pitifully low compared with other European countries.
Hundreds of Brits have been signing a pledge to volunteer to help them resettle and calling on the government to do more.
The campaign gathered pace today - with 15 signatures to the petition in an hour - as the headlines have been dominated by the migrant crisis in Europe and the thousands of people arriving on the continent from the Middle East and Africa.
Many were offering what support they could, including orientation and translation while some committing themselves to housing a refugee in their home.
The petition, started by civic movements Citizens UK and Avaaz, has been backed by the Green Party, with Brighton Pavilion MP Caroline Lucas tweeting it this morning.
One signatory asked: "They are human, and in desperate need. We are human and fortunate enough to have something to give. What is life for, if not to connect?"
At the time of writing, 1,284 people have signed up.
Britain's unwillingness to take in refugees has angered Germany, which has pledged to bring in 800,000 people this year, more than four times the figure from 2014.
Stephan Mayer, a home affairs spokesman for Angela Merkel's party, has warned that it would "do some harm" to Britain's relations with Germany if the UK remained "out of the club in this big task" of bearing the burden of migrants and refugees coming to Europe.
Citizens UK's Jonathan Cox told HuffPost UK it had run its campaign to get more refugees take in since September last year but said it gathered pace as the
They have worked to get councils to sign up to the government's Vulnerable Persons Relocation Scheme.
Cox said Britain taking so few refugees was a down to the reluctance on a national level to allow more people in but also a lack of councils being singed up to the scheme.
He said the strategy was to build up groups of people willing to welcome refugees in their area, who in turn would pressure councils into signing up the relocation programme and this would help e
A Citizens UK meeting with the prime minister before the election was one of the reasons the X was modestly expanded earlier this year, Cox added.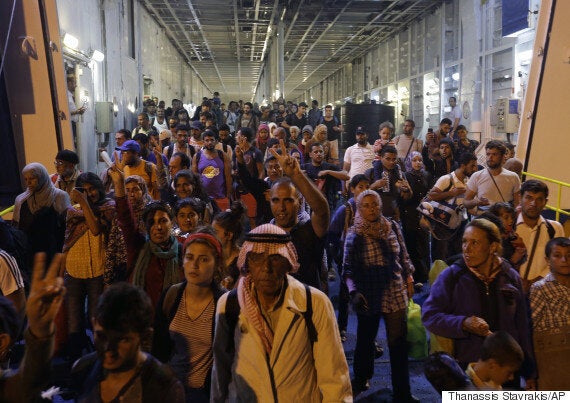 Syrians disembark yesterday at the Greek port of Piraeus. About 1,800 refugees arrived from the island of Lesbos as the country has been overwhelmed by record numbers of migrants this year
Welsh Green Party leader Pippa Bartolotti blogged on The Huffington Post UK about her party's support of bringing in more refugees.
"We should take our share of these refugees in with open arms. All of them. Instead you order more razor wire to keep them out," she wrote.
"In Swansea, Welsh Greens have got together with Citizens UK to take 20 Syrian families seeking refuge. Twenty families is not a lot to ask.
"In Newport, Greens are also asking for the city to take 20 Syrian families, and offers of practical help from residents are already coming in."
But the government appears unlikely to change course on the issue.
Speaking in Northamptonshire today, David Cameron said: "We have taken a number of genuine asylum seekers from Syrian refugee camps and we keep that under review, but we think the most important thing is to try to bring peace and stability to that part of the world.
"I don't think there is an answer that can be achieved simply by taking more and more refugees."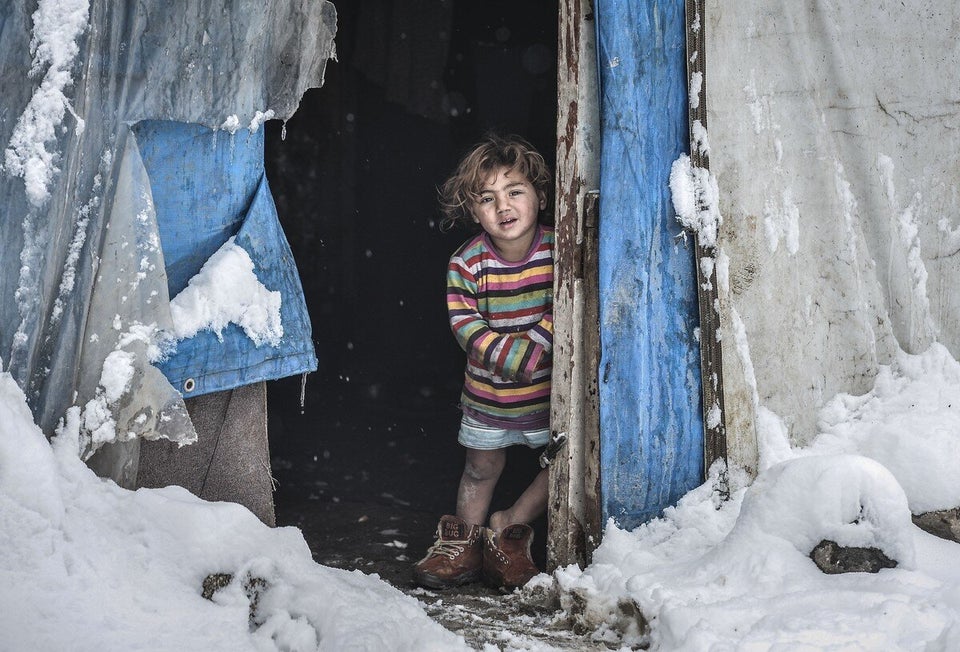 Syrian Refugees In The Snow
Related