Tabloid newspapers are being hounded by thousands of social media users for their sudden and apparent u-turn over the migration crisis that is sending tremors across Europe.
Thursday's editions of almost all the nationals splashed on an image of deceased toddler Aylan Kurdi, a three-year-old Syrian refugee who drowned during his mothers' plight to reach Greece from Turkey by sea.
Pictures of the boy were printed by two tabloid papers, complete with messages urging Prime Minister David Cameron to change tack over his refusal to match pledges from other European leaders to take in swathes of desperate asylum seekers fleeing their war-torn home nations.
The Daily Mail accompanied its front-and-centre picture of deceased Aylan with the caption: "Tiny victim of a human catastrophe".
Warning: graphic images below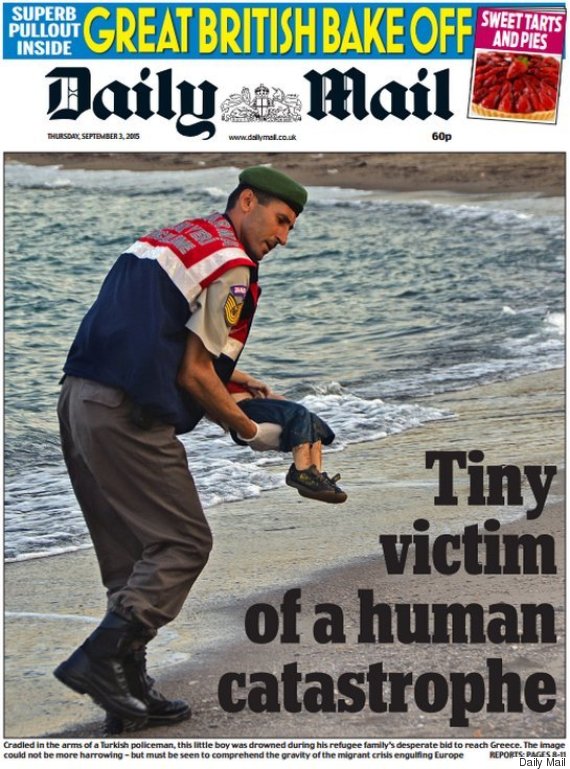 But many people were unimpressed with the Mail's heartfelt front page, calling its sympathetic message "sheer hypocrisy" in the light of previous splashes and editorials.
I have to be professional but oh god that Daily Mail front page and just the sheer hypocrisy of it.

— Keith Stuart (@keefstuart) September 2, 2015
without acknowledging the climate THEY've helped to cultivate in the first place with anti migrant, super nationalistic rhetoric

— Cal Mcl (@CalsHungry) September 3, 2015
@footyramblings @chunkymark @DailyMailUK Is there no end to Daily Mail hypocrisy? Have they no shame?

— The Kettles2 (@thekettles2) September 3, 2015
One person pointed out a drastic change in the paper's tone, highlighting the marked difference between Thursday's front page and that published less than a week before, in a post that garnered over two-and-a-half thousand retweets.
The earlier story focused on statistics issued by the ONS that showed net migration to Britain had hit over 330,000 - the highest figure on record.
But the Mail's front page just six days later, laden with a sympathetic picture showing Aylan's body, bemoaned him as a victim of the "migrant crisis engulfing Europe".
Six days apart. Go fuck yourself @DailyMailUK pic.twitter.com/q8RgsmfLOw

— JW (@footyramblings) September 2, 2015
The Sun also came under fire for an apparent u-turn, hundreds of social media users lambasting the paper for having published sinister comments by its famed and contentious columnist, Katie Hopkins, in light of its editorial this week.
Hopkins wrote in The Sun in April: "NO, I don't care. Show me pictures of coffins, show me bodies floating in water, play violins and show me skinny people looking sad.
"I still don't care."
Readers repeated her words back at the newspaper in light of Thursday's tragedy and accused Sun editors of "playing high horse in a crisis".
The Sun. Demonises and dehumanises refugees and migrants for years. Sees public opinion change. Publishes this. Scum. pic.twitter.com/ZGvFIqDNG0

— Dave Gould (@davesgould) September 2, 2015
Tabloids create public fever to the point the PM thinks it's bad PR to help children, then play high horse in crisis pic.twitter.com/hbtRGqzRW7

— Tom Wilson (@feedthedrummer) September 2, 2015
Surprisingly Sun front page tomorrow. Hypocritical, blood on their hands scum they are, but its a step up in the pressure on Cameron.

— Seaneen Molloy-V (@ms_molly_vog) September 2, 2015
The racial bile spewed by the Sun & Daily Mail has influenced govnts to reject refugees. Their change of heart appears hollow & hypocritical

— David Cairnduff (@atDuff) September 2, 2015
The backlash came as an online petition calling on the UK government to accept more refugees has topped the 100,000 signature threshold needed to force a debate in Parliament following a massive surge in support.
About 100 people a minute were signing up to the Government e-petition this morning, fuelled by the picture of a three-year-old boy washed up dead on a beach after attempting to escape Syrian.
SEE ALSO: