A wheelchair-bound man brought his new wife and guests to tears on his wedding day by standing up for the first time in eight years.
Paralysed Neil Martin, 47, stood for the first time since 2007 to say "I do" to bride Ginny Marchmont, 54.
The couple went onto impress guests with a romantic first dance, which was a poignant nod to the love of dancing around the living room the couple shared, before a rare form of muscular dystrophy paralysed Mr Martin.
Remarkably, the £15,000 specially adapted chair which enabled Mr Martin to stand was crowdfunded by selfless strangers.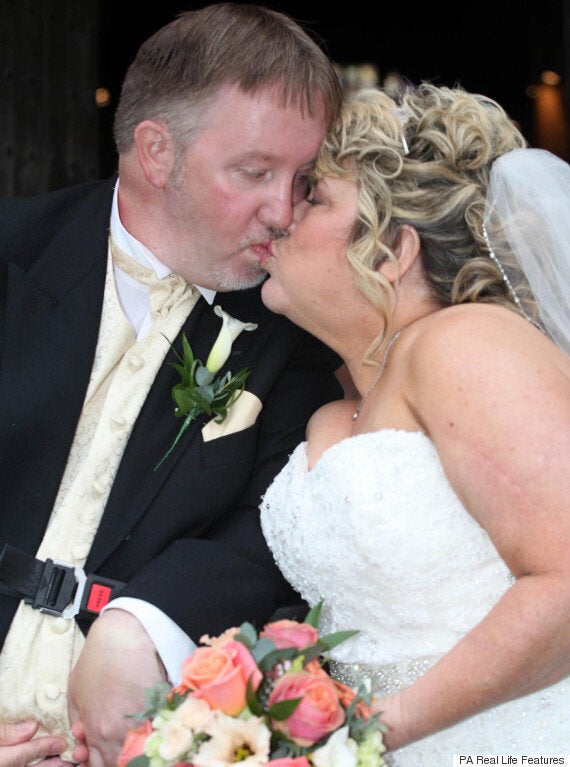 Neil Martin and his wife, Ginny
"It was wonderful," he said, recalling his wedding on 1 August in Westbury, Wiltshire. "Ginny was delighted. She was choking back tears.
"I can't thank the people – the strangers – who helped me enough."
Mr Martin told his wife, who he met through friends, to leave him after he became gravely sick in 2007. But she refused, and a date was set for their wedding.
"I knew I wanted to walk and surprise her," the volunteer receptionist said. "Ginny's face was a picture when she saw me standing up. She was trying not to cry.
"Before I was paralysed I used to love dancing. We wouldn't have had a first dance if I'd had to sit down for it and that would have been heart-breaking."
"We would still have had our song - Lionel Richie's Ballerina Girl - but we would have listened to it and not danced," he said.
The couple told of how they would chat for hours on the phone when they met back in 2001.
"We'd play soppy love songs to each other over the mouth piece too," Mr Martin recalled. "We slow danced every night in our living room once we moved in together.
"But after the diagnosis we hadn't danced in eight years. We wanted to be able to cuddle standing up."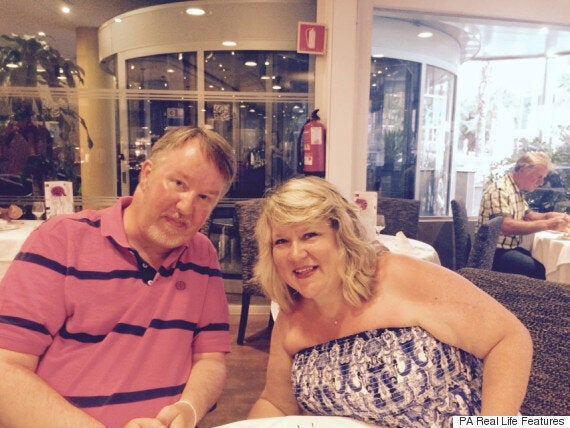 Neil Martin and his wife, Ginny
Mr Martin, who was inspired to stand up on his wedding day after watching a video online of a paraplegic groom whose friends had hoisted him up for his first dance, has a form of muscular dystrophy called myotubular myopathy.
It is so rare it affects just seven people worldwide.
In January this year, Mr Martin set up a fundraising page asking people to donate towards a stand-up wheelchair.
Only he, best man Jason Wright, and bridesmaid Sharon Diment knew that the chair had been delivered in time for the wedding. They even managed to keep the secret under wraps during the rehearsal.
Mr Martin said: "During the rehearsal, I sat down in my wheelchair. Ginny didn't know the chair had arrived.
"I got to the church early on the day so no-one saw me, then I was sat down in the stand-up wheelchair when the congregation came in to the church.
"When the vicar said: "Please stand," I did too. "Because the congregation had looked round to see Ginny they didn't see me stand up."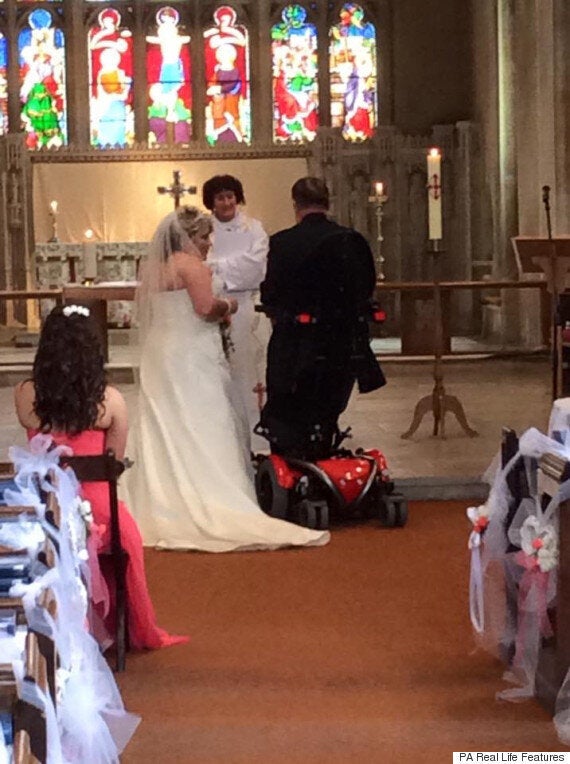 Neil Martin standing at the altar with his wife, Ginny
"Then when everyone turned round, to see Ginny reach the front, they saw me stood up and were amazed," said Mr Martin. "Ginny was gulping down tears as she was walking down the aisle, trying not to cry.
"My daughter Abbie, said: 'Oh my God, he's standing up,' and Sharon said: 'It was a secret for you as much as for Ginny'."
Mr Martin stood up to say his vows, walk down the aisle, give a speech at the reception and have his first dance with his bride.
"I wanted to make the most of it," he said.
Mrs Martin added: "As we greeted people at the reception, everyone was so pleased to see him standing up. I didn't know he'd had the chair delivered. I was gulping back tears.
"It really made the day."