Denise Welch and the cast of 'Boy Meets Girl' were met with overwhelming praise from viewers, as the new transgender-centric sitcom launched last night (3 September).
The groundbreaking show, which is set in Newcastle, tells the story of two families coming together, as their respective son and daughter fall in love.
It just so happens that Judy is a trans woman, as is Rebecca Root, the actress who plays her, marking the first time a transgender star has been cast in a leading role in a UK sitcom.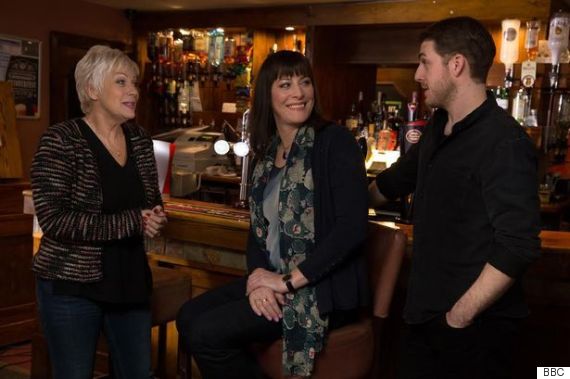 Denise Welch, Rebecca Root and Harry Hepple
Fans took to Twitter in their droves to praise the "heartwarming" and "wonderful" show:
@chellehendley I have to say after watching #BoyMeetsGirl I am taken by you, your power in showing so much raw emotion has me captivated.

— Derrick. (@D_Kowboi) September 4, 2015
watched #BoyMeetsGirl last night, i think that's the first time in maybe a decade i've actually watched somethin on tv and it was worth it

— Vomit Grrrl (@PolyCement) September 4, 2015
Can't wait for the next episode of #BoyMeetsGirl such a funny and heart warming show, the cast are all amazing and the script was hilarious

— Sarah Sprules (@Sprulesy1) September 4, 2015
#BoyMeetsGirl what a wonderful show @rebeccaroot1969 is brilliant in this role. cant wait for episode 2

— Teraina Eugenie Hird (@TerainaTS) September 4, 2015
.@TComedyAward 's Boy Meets Girl delivered on it's promise of a trans comedy that takes trans seriously. Go watch it. Now. I'll wait.

— Jenn Dolari (@dolari) September 4, 2015
just watched #BoyMeetsGirl and was moved to tears, at last a sensitive and honest portrayal of a transwoman by the lovely @rebeccaroot1969

— Kristen Hume (@kristen_hume) September 4, 2015
honestly anyone and everyone should watch #BoyMeetsGirl (especially if you like british sitcom) it's wonderfully funny and heartwarming. wow

— bomb girls beth (@noblenymphadora) September 4, 2015
#BoyMeetsGirl is heartwarming, cute and very funny. Wales won the Football (unbelievable) and my boy Murray won his match. GOOD DAY.

— Kenneth Jones (@Ulyversejones) September 4, 2015
#BoyMeetsGirl was bloody brilliant. Really funny. line about being in prison with no release date resonated with me as a trans person.

— Oliver Waite (@OliverTudor1990) September 4, 2015
I'm surprised I didn't end up bawling my eyes out whilst watching @BBCTwo's Boy Meets Girl but sometimes miracles can occur #BoyMeetsGirl

— Gemma (@gemma_ew) September 3, 2015
#BoyMeetsGirl thank you @BBC for airing something so refreshing and touching

— Arwen Makin (@ArwenMakin) September 3, 2015
Boy Meets Girl so good. Woman just HAPPENS to be trans. City just HAPPENS to be Newcastle. Great.

— Silly Old Daniel (@sillyolddaniel) September 3, 2015
There were a lot of celebrity fans too:
Absolutely loved #BoyMeetsGirl @BBCTwo ❤️❤️💚

— Zoe Ball (@ZoeTheBall) September 3, 2015
Watched boy meets girl last night bbc 2 brill all round moving funny charming well done am hooked Tim Healy xxx

— Tim Healy (@TheRealTimHealy) September 4, 2015
@RealDeniseWelch .Hey babe,looks like you have a hit!Well deserved too.You are an utterly brilliant actress!

— Lisa Maxwell (@thelisamaxwell) September 3, 2015
I loved loved loved Boy Meets Girl. Well done @rebeccaroot1969 @RealDeniseWelch & all the team. Just lovely xx

— Julie Hesmondhalgh (@juliehes) September 3, 2015
@rebeccaroot1969 @RealDeniseWelch @lizzieroper #BoyMeetsGirl 👏🏻👏🏻👏🏻 instant series record! Well done ladies. Loved it.

— Daniel Brocklebank (@Dan_Brocklebank) September 3, 2015
Denise herself then took to the social media site to thank fans for their kind words about the show's debut:
Wow guys! Been scared to look! But soooo touched at your amazing comments! It means such a lot to us all!!! xx

— Denise Welch (@RealDeniseWelch) September 3, 2015
Before the series began, Denise told of how she believed the show would change the way people think about transgender issues.
"What I've been saying is that it will undoubtedly gently educate people who watch it who have no idea about the subject of and issues around transgender, but it's not about hammering any message home," she told The Mirror.
'Boy Meets Girl' continues next Thursday at 9.30pm on BBC Two.
LIKE US ON FACEBOOK | FOLLOW US ON TWITTER