Favourite to win in the Labour leadership election Jeremy Corbyn had his chances bolstered on Thursday, after a widely-praised performance on Sky News' party hustings.
In an admittedly unscientific poll, the Islington MP trumped rivals Andy Burnham, Yvette Cooper and Liz Kendall in a sticker poll.
Sky asked audience members to paste Labour rosette stickers on the face of each candidate based on how well they were believed to have performed in the debate, and one candidate was the undoubted winner.
Corbyn tallied over 60 of the coveted adhesives, Leigh MP Burnham lagging in second place with 17, while shadow home secretary Cooper garnered just nine.
Liz Kendall, widely seen as the party's Blairite candidate, managed to muster the support of just two attendees.
He won applause from the 200 or so audience members with a string of left wing statements, including a rejection of further public sector cuts, attacks on the EU's free market nature and opposition to further bombing campaigns against 'Isis'.
The final moments of the debate saw Cooper and Corbyn square off over the socialist stalwart's plan to fund infrastructure investment by printing more money – dubbed People's Quantitative Easing.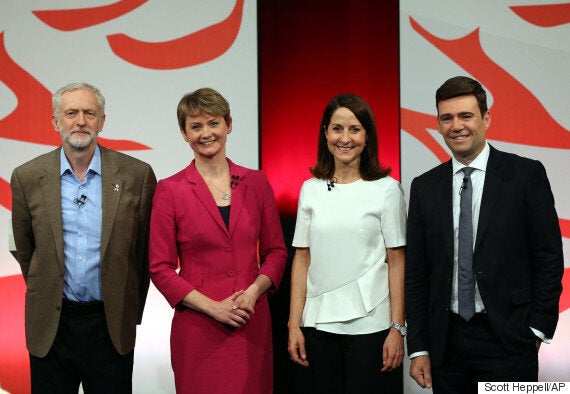 All candidates pose for the camers at the end of the final leadership debate
Cooper said: "You're offering people false promises. Quantitative easing has stopped because the economy is now growing. If you simply keep printing money when an economy is growing it simply increases inflation.
"You're offering people false promise. It sounds brilliant - everyone claps because everyone wants to the see the schools and hospitals done. It's dishonest, it's false promise, we've got to offer people real hope. You're not being straight with people."
But Corbyn dismissed the claims, and said leading economists supported his plans and a similar policy had helped boost the Japanese economy.
Related