Over 7,000 people have signed a petition calling on British craft beer company, BrewDog, to remove an advert which has been labelled as transphobic.
The video named "Don't Make Us Do This" asks fans of the company to become investors while reiterating their mission statement - "Equity For Punks".
The petition slams the advertisement, claiming it is: "Mocking trans women, sex workers and homeless people and that by doing so - is not punk or ethical."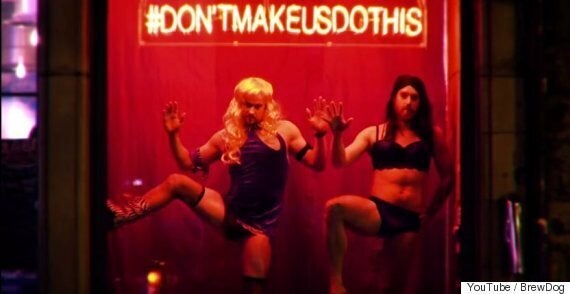 The advert was launched on the 1st September
During the three minute advertisement, co-founders James Watt and Martin Dickie ask viewers not to force them into any humiliating experiences.
Watt and Dickie are then shown in a series of "embarrassing" scenarios, which includes begging for money on the streets and in a window dressed in women's clothes as sex workers.
In reaction to the campaign, which was launched on the 1st of September, the petition stated: "BrewDog beer company claims to be "beer for punks". They claim to be ethical. Yet in their new crowdsourcing video they mock homeless people, trans women and sex workers.
"They say, "don't make us do this" whilst performing as offensive caricatures of people, many of whom already suffer discrimination every day.
"They are mocking the lives and experiences of people who real punks would be defending and helping."
Despite the backlash, student Nikki Hayden told the Huffington Post UK: "As a transgender woman I do not find this transphobic, as its in no way relatable to me.
"I do however think it is in bad taste as it looks down upon homeless people who have no other option than to beg for money on the streets, as well as sex workers who are demonised, and sometimes forced, into that line of work, which due to the law is a more dangerous than it ought to be."
In a statement, James Watt, Co-Founder of BrewDog told the Huffington Post UK: "The video we created was to launch the CrowdCube aspect of Equity for Punks and was made in the spirit of fun and sending ourselves up – it's a shame that some people have taken offence where none was intended.
"We have a history of supporting and championing the LGBT community, and will continue doing so…. watch this space."
Related