World-renowned photographer Anne Geddes has used her talents as a visual storyteller to raise awareness about meningococcal meningitis in children.
For her book 'Protecting Our Tomorrows: Portraits of Meningococcal Disease', Geddes teamed up with GlaxoSmithKline (GSK) to emphasise the importance of vaccinating children against this often deadly disease.
Meningococcal bacteria causes most cases of bacterial meningitis and septicaemia in the UK. Septicaemia (blood poisoning) happens when the meningococcal bacteria in the blood multiply and produce poisons, and meningitis occurs when the bacteria crosses from the blood into the lining of the brain.
Together they are known as meningococcal disease.
Geddes photographed 15 survivors of meningococcal disease, many who have lost limbs from the illness.
Speaking to HuffPost UK Parents, Geddes said: "The protection of children and the desire for every child to reach their full potential is why I'm a proud global ambassador for the awareness of meningococcal disease."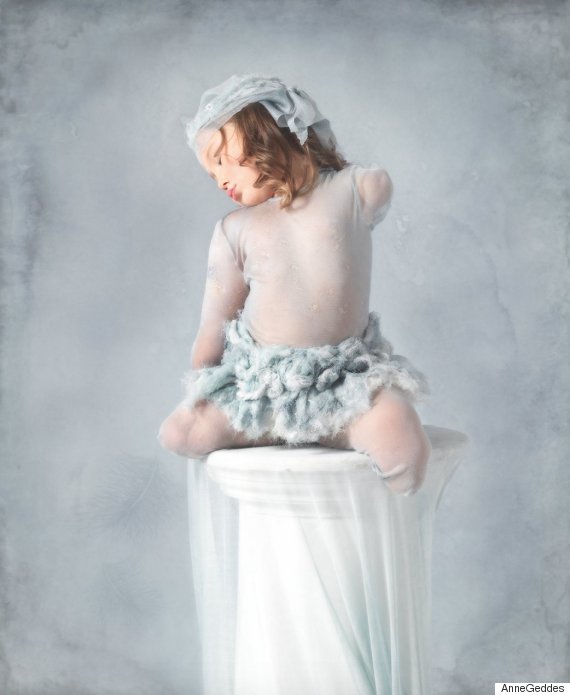 Amber
Geddes continued: "Meningococcal disease is a sudden, aggressive illness that can lead to death within 24 hours of onset.
"Babies, toddlers and adolescents are in the most vulnerable age groups.
"Unfortunately, many of those who do survive are often left with life-long complications, such as brain damage, learning disabilities, hearing loss and amputation of limbs
"As a photographer and mother, it was incredibly moving to meet these young people and see firsthand the impact that meningococcal disease has had on their lives."
SEE ALSO:

Meningitis B Vaccine Now Given To Babies Across The UK Will 'Save Many Lives'

Charity Celebrates Long Awaited News of Introduction of MenB Vaccine
Geddes added: "I feel privileged to be joining these survivors and their families, not just to raise awareness, but to highlight their powerful stories of resilience and also honour those who have tragically lost their lives to the disease."
She said she hoped to illustrate the "profound impact" meningococcal disease can have on entire families as well as stressing the responsibility parents have to protect and nurture their children.
See below for the remaining 14 images in the series.