If you've ever wondered about how to escape prison, it's probably not the best idea to follow this guy's example...
Maycon Souza da Silva was attempting to flee a Brazilian penitentiary - "Shawshank Redemption" style - when he became trapped in the tunnels exit.
Police at the scene filmed the inmate struggling to climb out of the escape route and can be heard asking if there's anyone else behind him.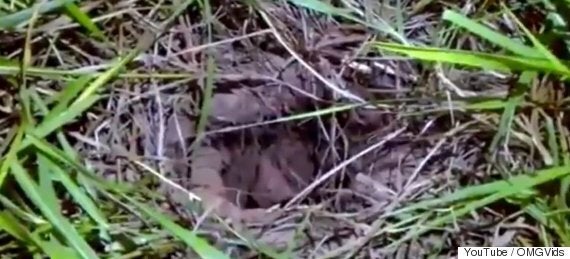 The Brazilian attempts to climb out of the exit hole
Despite facing tough questioning, da Silva didn't tell the officers that 23-year-old Rafael da Silva Costa was also part of the prison break.
Costa, who was imprisoned for assault and illegal possession of weapons, managed to flee the underground network but according to reports, was later captured in a forest near the jail.
The two inmates were trying to flee the region's largest prison Licorice, situated in Rio Grande do Norte.
The cartel leader used a partition in the shower area of his cell to block the CCTV camera from his exit route.
The wall was a blind spot in the camera's view of his cell and covered up the entrance hole to the mile-long tunnel Guzman used to escape.
Related