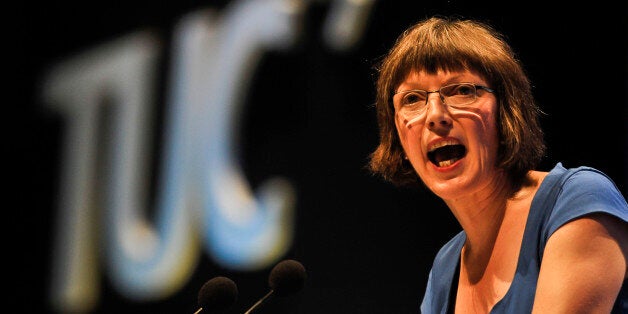 The Government's clamp-down on union rights could fuel far-right tensions as employers bus in migrant agency workers to cross picket lines, the TUC General Secretary has warned.
Frances O'Grady believes the Government's proposed changes to the rules around striking would be a gift for "ugly forces" to push forward with anti-migrant rhetoric.
Under the new rules being considered by Parliament next week, employers would be able to hire agency workers to cover for permanent workers during a strike.
Speaking ahead of next week's Trade Union Congress meeting in Brighton, Ms O'Grady also warned Labour it needed to become an "election winning machine" in order to stop such measures as the current bill being passed into law by the Tories.
Referring to the Trade Union Bill, she said: "It's not beyond the wit, surely of anybody with half a brain in government to think that if you have a lot of agencies who now source their labour in people's home countries - and we know that migrant workers are more likely to be on agency contracts than settled workers or local workers - it's not that difficult to imagine a scenario where some factory in the midlands goes on strike and then bussed in wholesale are workers from an eastern European country.
"What impact do we think that would have on industrial relations and community relations? Frankly this is not grown up politics. It's not right, it's not fair on the agency workers, it's not fair on those going on strike."
Ms O'Grady pointed to a series of strikes in 2009 at Lindsey Oil Refinery in Lincolnshire, in which workers were angry that several hundred European workers were given jobs ahead of local people.
She claimed the BNP had infiltrated some of the protests, and had to be chased off the site by a union convener.
The ban on the use of agency workers to replace permanent staff during a strike has been in place since 1973, but is set to be abolished as part of the Trade Union Bill.
Ms O'Grady said: "It seems to be potentially gifting some ugly forces in society to exploit those situations for their own ends. Some may say that's scaremongering. I think that's taking a sensible look at some of the practical implications of the Government's proposals because part of the problem is this appears to be drafted by people who have no practical experience of industrial relations by a mile."
Other measures in the bill include introducing a 50 per cent turn out threshold for industrial action ballots, making unions giving 14 days notice of any action, instead of the current seven, and two weeks notice of what strikers plan to put on social media or blogs during the protest itself.
Ms O'Grady deemed the measures as "illiberal, unfair and unnecessary", and enforcing the new measures would be a "waste of police time".
She said: "The very idea that the police force that is currently struggling to deal with burglaries is going to be asked to devot resources to peaceful pickets in order to check whether we have set up a Facebook page, a Twitter account, written a blog, what's in it - these are the issues being consulted on.
"I suspect the average bobby on the beat feels they might have more important things to be doing."
Reflecting on the Labour leadership contest, the result of which is announced on Saturday, Ms O'Grady appealed to whoever wins to get "stuck in" to the business of Opposition immediately.
She said: "Whoever wins it, we've got a lot of stuff happening now where we need Her Majesty's Opposition to get stuck in and work together to get stuck in.
"Everybody should feel excited about more people wanting to get involved in politics. For me, Labour has got to be a party, a movement and an election winning machine. That's what we need it to be, whoever leads it."