Paula Radcliffe's historic blood test data has finally been revealed, just hours after the former British athlete claimed she wouldn't be pressured into a "knee-jerk" decision to release the results.
The women's marathon world record holder and three-time London Marathon winner broke her silence on Wednesday after a parliamentary hearing into allegations of widespread cheating across British athletics.
Tory MP Jesse Norman had suggested that a high-profile sports star and British winner of the London Marathon could be linked to blood doping as he asked questions of David Kenworthy, the UK Anti-Doping chairman.
The Conservative's comments were enough to increase suspicions around high-profile athletes like Radcliffe who are well known for their performances at the capital's annual race.
Although not mentioned by name, Racliffe hit back at the MP, maintaining that she was a "clean" athlete in a 1,700 word rebuttal.
But Sky News on Thursday claimed it had obtained the long-distance runner's historical blood test data, which raised some experts' suspicions and sparked a heated public debate in the aftermath of Norman's remarks.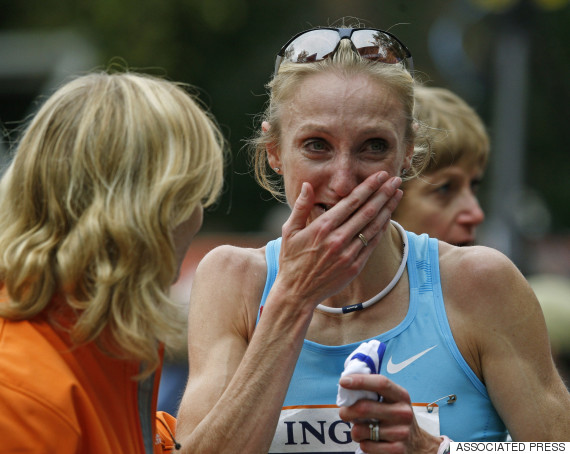 Radcliffe has used the release of her blood data to place test results into context
This latest move despite Radcliffe telling the BBC on Thursday morning that releasing blood test data was "going against the advice and the request of the governing bodies of our sport".
She said: "I know that I'm clean.
"You're the one that has doubts and that, I'm afraid, when it all boils down to it, is not my problem.
"I know I'm a clean athlete.
"I am not being forced, or pushed, almost abused, to giving a knee-jerk reaction to something that goes against that people who I trust and who are asking me at this moment to put my trust in them and to protect a lot of other innocent athletes."
But just hours after that interview aired, she was then using historical blood data to prove her innocence.
41-year-old Radcliffe told Sky News that three readings taken which have been labelled as 'abnormal' by some experts can be explained by the circumstances surrounding the specific tests.
READ MORE:
Any test of a female athlete which finds more than 103 on an "off scores" reading of blood values is assumed to be suspicious and triggers an investigation and further testing.
But the "normal" reading can rise for a number of reasons outside of an athlete's control.
She said that all three came after intensive altitude training or extreme exertion, two scenarios which can lead to naturally higher blood value ratings.
The leaked test data shows three tests with readings of 114.86, 109.86 and 109.3.
The accepted cut off for tests taken after altitude training is a value of 111.7, higher than two of the readings released to media.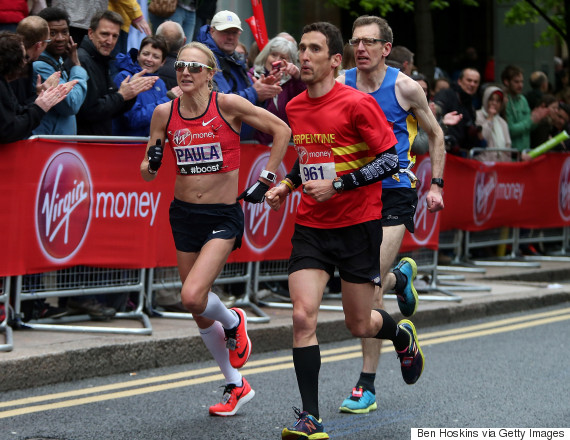 Paula Radcliffe makes her way through Canary Wharf during the Virgin Money London Marathon on April 26, 2015 in London, England.
The third is explained by Radcliffe as having come within two hours after she finished a marathon in Portugal during 29c heat. This, she argues, makes the test invalid.
She told Sky News on Thursday afternoon: "I had to wait to get those (blood test data) in place but I'm very glad I have them. They can tell me you don't have three values that crossed any threshold, not when you apply the context of whether the test followed a period of altitude training or was carried out at altitude.
"Not when you apply whether the two hour rule - that it cannot be used within two hours of hard competition or hard training - is not valid. That rules out two of the tests they are referring to, and the other is not above the threshold."
Tory MP Norman's comments provoked a fierce conversation among athletics fans and commentators, The Sunday Times also reporting that "a top British athlete" had "highly unusual" and "abnormal" test results indicative of doping.
Radcliffe soon after confirmed she was the athlete referred to by the newspaper.
It is not clear how Sky News obtained the data. It had not responded to a request for comment at the time of publication.
READ MORE: